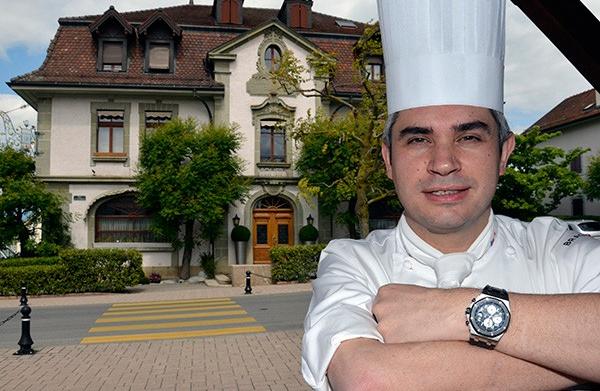 PARIS - Benoit Violier, the chef of the "world's best restaurant" whose apparent suicide has thrown a spotlight on the intense pressures facing top cooks, worried that his success would not last, reports said last Tuesday.
In his last interview - given only four days before he was found dead with his hunting rifle by his side at his home near Lausanne in Switzerland - he appeared in good spirits.
But he told the French daily Liberation that having three Michelin stars and being named the best in the world last December by the La Liste classification did not matter to him.
"It's all about clients coming back," he said in the interview published last Tuesday. "I hope that it lasts. With 54 employees, you have only three months' grace," he said, referring to the waiting list for a table at his Restaurant de l'Hotel de Ville in the village of Crissier.
"You have always to remain concentrated. You know people don't come here for the sea views," he joked, referring to his restaurant's less than glamorous setting in a semi-industrial zone near a motorway exit.
He claimed never to have heard of La Liste - set up by the French department of foreign affairs as a counterweight to the British-based World's 50 Best Restaurants guide - until Agence France-Presse contacted him to tell him he was on top of its ranking.
"I didn't want to go to the prize-giving ceremony, I had planned to change my identity card that day," he told the daily.
Such was his personal disdain for awards and the star system around which the world of haute cuisine revolves that he made little play of his victories on his restaurant's website.
Instead, he preferred to highlight the triumphs of his staff, telling Liberation that "in a year and a half, they entered 13 competitions and won them all".
Friends and colleagues said he might have been affected by the sudden death six months ago of his mentor Philippe Rochat, whom he succeeded at Crissier in 2012.
Unlike the top French chef Bernard Loiseau, who killed himself in 2003 after losing a star, Violier appeared to have no financial problems and owned his own restaurant.
Business was brisk, with former Spanish king Juan Carlos and ex-German chancellor Gerhard Schroeder among those drawn to sample his signature game and seafood dishes such as turbot with Maltese oranges.
The 44-year-old, whose life-long passion for hunting had led him to write a 1,000-page encyclopaedia of European game birds, said he was considering putting his rifle away and taking up photography.
The book's editor, Mr PierreMarcel Favre, told the paper that "no one understands" why he killed himself.
"He was in control, relaxed, serious, had lots of ongoing projects," he added, doubting that the shooting was an accident.
Brigitte Violier, who ran the restaurant with her husband, reopened his restaurant on Tuesday, only two days after his apparent suicide.
She reportedly gathered the staff on Monday and decided the show had to go on.
"I reserved a table quite a while ago for Tuesday lunchtime," a diner at the restaurant told Swiss newspaper 24 Hours.
"They called me and explained that Madame Violier wanted the restaurant to keep going and asked me if I would be there to support them. I found that very courageous."
The son of winemakers from western France, Violier narrowly escaped death as a child when a bottle of sparkling wine blew up in his face.
Violier, who had a 12-year-old son with his wife, said he was also toying with the idea of expanding his cookery courses.
"The starification of our profession has gone too far. Television has made kids believe that in three months, you can be a star. But to be a cook, it takes a whole lifetime," he said.