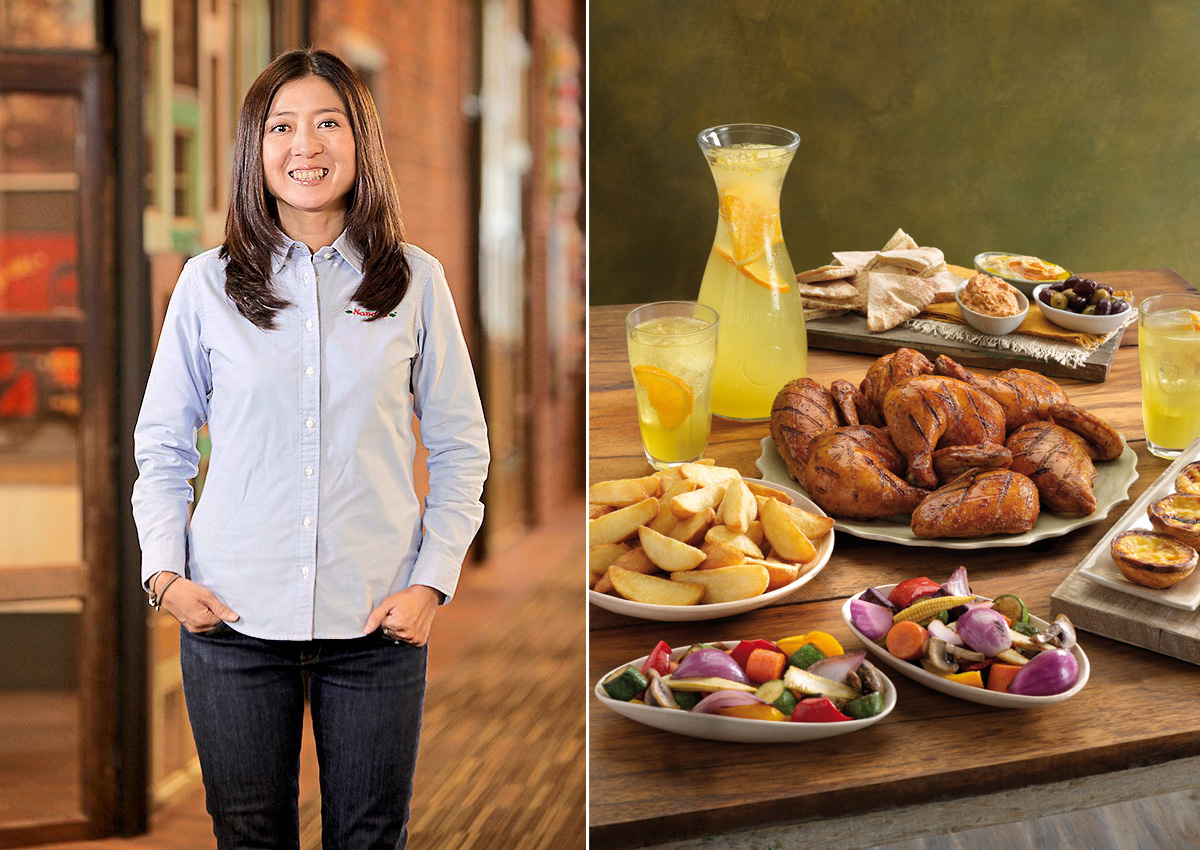 Mac Chung Lynn is one heck of a woman to get hold of. Her days are so packed with meetings and appointments, we had to settle on an e-mail interview despite working only a few kilometres away from each other.
She is after all the director and Group CEO of Nando's Malaysia and Singapore, one of the most successful F&B franchises in the region, and proud home of Peri-licous flame-grilled chicken and Afro-Portuguese inspired side dishes. Peri-peri (African bird's eye chillies), the chilli used for Nando's dishes and sauces, is now synonymous with the brand and Mac even signed off her e-mail with "Peri regards".
"Over the years, especially in the last five years, Nando's has gone through a series of repositioning and there have been a lot of alignments in terms of product variety and specification, look and feel. We are spending on average RM1.4mil (S$470,190) per store now compared to when we started and were spending RM600,000 to RM700,000 then," she says.
After more than 17 years in the business, and currently with 69 Nando's outlets in Malaysia and 11 in Singapore under her belt, Mac is also one of the most established female entrepreneurs in Malaysia.
It's not surprising she has been handpicked for the new season of Life Inspired's original series Tastemakers, which recognises the entrepreneurial achievements of innovative business personalities from Malaysia, Singapore and Indonesia. (Entrepreneur Adrian Yap of The Bee fame is also featured.)
The lifestyle channel's 30-minute episode captures the aspirations and inspirations of four innovative entrepreneurs from each country, who constantly push the envelope with their unconventional ideas and business acumen.
Where her personal life is concerned, the mother of three is definitely an enigma. Mac prefers her successful business to do the talking.
Mac was born in Petaling Jaya, and went to Methodist Primary School. At 10, she attended the Garden School, before being whisked to a boarding school in England at the age of 12. She spent five years there - a period she once described as "made her independent and at the same time also strengthens family ties" - and subsequently pursued Architecture at the University of Wales in Cardiff.
However, Mac only worked as an architect for a grand total of two years before her father made a decision that forever changed the course of her life in 1997. He tasted Nando's for the first time in London, fell in love with the food, called the manager over, inquired about the South African-based company and a month later, her brother was negotiating for Nando's franchising rights.
"I was then just 24 years old and just qualified as an architect. Hence I knew nothing about chicken nor the restaurant business.
"I remember sitting with the owner of Nando's who talked about Nando's for the whole lunch and thinking how anyone can do that," says Mac.
However, 18 years later, she has become a vision of that owner herself.
"I don't regret giving up architecture. I love the restaurant business - it is dynamic and while it is hard work, I love working with people and driving excitement. If you sat me down, I could now talk to you about chicken and restaurants the whole day," she says.
Speaking of chicken, Mac shares that her favourite dish at Nando's is the quarter chicken in mild, with coleslaw and grilled vegetables on the side.
She remembers the first time she had Nando's and thought that it was exotic and unusual. "It was spicy and addictive and was the best tasting chicken that I ever had." And that is exactly what she wants the customers to feel as well.
"As we are part of a global brand, the taste has remained the same all over the world. There has been no modification nor adaptation for the Asian palate."
Mac adds, "I would love for all my customers to feel an excitement … being on a journey of the senses. The adventure of navigating our stores, being welcomed by the Afro-Luso music that we have, to biting into peri-peri chicken while experimenting with the many different flavours of sauces."
By the way, Nando's describes Afro-Luso as African beats featuring the fiery rhythms of Latin America. It is their own take on music, and is played at every Nando's outlet around the world.
Each one of Nando's restaurants has its own special design but share the same earthy textures and colours that pay homage to its sunny Afro-Portuguese roots.
It seems that there is no stopping Nando's. Mac says the global brand is growing at the speed of 10 restaurants a year, and it allows them to expand their presence in Malaysia as well.
But she says that even after all these years, it still requires a lot of hard work. "But I am quicker to react now than when I first started. In the early years, I was more emotionally invested in the decisions I made but nowadays, I am more brutal about making decisions in the interest of the business."
And if you're thinking about tipping your toes in this big, bad, busy world of F&B, Mac has a few choice words.
"It is a tough world; unless you are ready to give up your weekends and nights for the first few years, do not get involved."