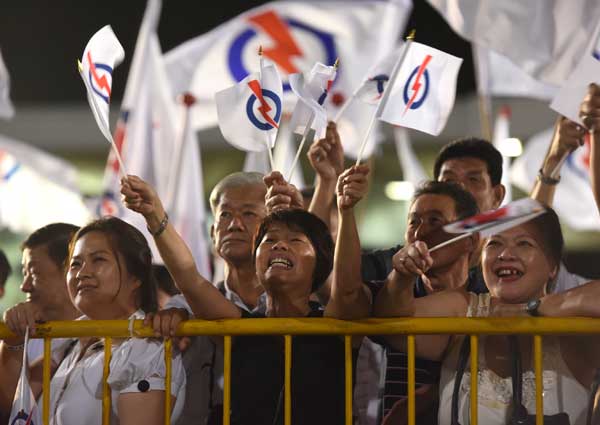 It has tackled the tough issues of foreigner inflows, rising house prices, and healthcare and ageing concerns. But now, a new issue rears its head for the People's Action Party (PAP) government in its new term - a slowing economy.
Since GE2011, the Government has beefed up areas that had prompted complaints - providing support for groups ranging from the elderly to the "sandwiched" generation, and making adjustments to longstanding institutions such as the Central Provident Fund.
But not long after the posters and bunting have been taken down after PAP's victory, new figures emerged about the economy which pose the toughest, and most immediate, challenge.
Official data out last Thursday showed that Singapore's exports fell sharply last month on weak demand from China and Europe, raising the odds of a technical recession in the third quarter. A technical recession is defined as two consecutive quarters of economic contraction. With local employment slowing, observers say the Government could relook curbs on hiring foreigners to ease some of the pain for certain industries, and find ways to better match Singaporeans to jobs that fully utilise their skills.
"Some SMEs are really suffering as they have jobs Singaporeans normally would not be keen on taking up," says UOB economist Francis Tan. "This even leads to them closing shop as they cannot cope."
He hopes to see a loosening of restrictions on foreign workers for industries most strapped by the manpower crunch, such as the food and beverage industry. The curbs were imposed amid concerns that citizens were having jobs taken away from them.
But now, local employment has dipped in the first six months of this year, while labour productivity fell in the manufacturing, construction and service sectors.
And the number of young Singaporeans entering the workforce is shrinking with every cohort - testament to the ageing population.
UniSIM College economist Walter Theseira notes: "The Government will continue to maintain its policy of population growth. I do not think we will see an opening of the floodgates, but it may pick up pace a bit from the last few years."
But while the labour challenge in the lower-skilled sectors is the lack of manpower, the challenge those in higher-skilled sectors face is of skill mismatch, he said. So a key focus should be on improving the fit between workers and jobs so they are not underemployed, rather than importing workers to the extent Singapore was accustomed to.
Experts say the foundation of measures to boost Singapore's prospects in a tepid global economy has been laid, but needs to be fine-tuned and ramped up.
UOB's Mr Tan points to the SkillsFuture initiative, which will help workers upgrade skills at any stage of their careers. Schemes to fund innovation to raise productivity are available, but could be improved.
A silver lining lies ahead too - the ASEAN Economic Community will come about at the year-end, providing a massive common market for member states such as Singapore.
HOMES MORE AFFORDABLE
While social spending could take a backseat to measures to stimulate the economy, the leftward shift that has characterised policies in recent years is expected to continue.
Experts say concerns about healthcare, housing and transport have largely been eased by measures in the Government's previous term, though the effects of some will be felt only years later.
Homes are now more affordable, and MPs note complaints about housing have gone down at Meet-the-People sessions. While the bed crunch in hospitals made news in recent years, there are now new hospitals ready or on the way.
Commuters may fume over train breakdowns, but the Government has been working to improve bus and rail connections. By 2030, the rail network will double.
One new transport initiative may loom: a satellite-based, no-gantry electronic road pricing system, charging based on the distance travelled on congested roads. Motorists have complained this will make journeys more expensive.
Prime Minister Lee Hsien Loong told PAP MPs last week: "A good mandate gives us precious political capital, which we must make good use of, wisely. Inevitably, from time to time, the Government will have to take hard decisions."
Dr Tan says this mandate will empower the Government to take bold steps in its new term. But Dr Norshahril Saat, a fellow at the Iseas-Yusof Ishak Institute, says it might place pressure on the PAP to be especially mindful of how the public might view tough measures.
"Any unpopular policy introduced by the PAP will be linked to its strong mandate in 2015. Singaporeans will say, 'We voted you in!'," he says. "Imagine, for instance, a GST hike. Singaporeans would think that this resulted from having (next to) no opposition in Parliament."
asyiqins@sph.com.sg

This article was first published on Sept 20, 2015.
Get a copy of The Straits Times or go to straitstimes.com for more stories.