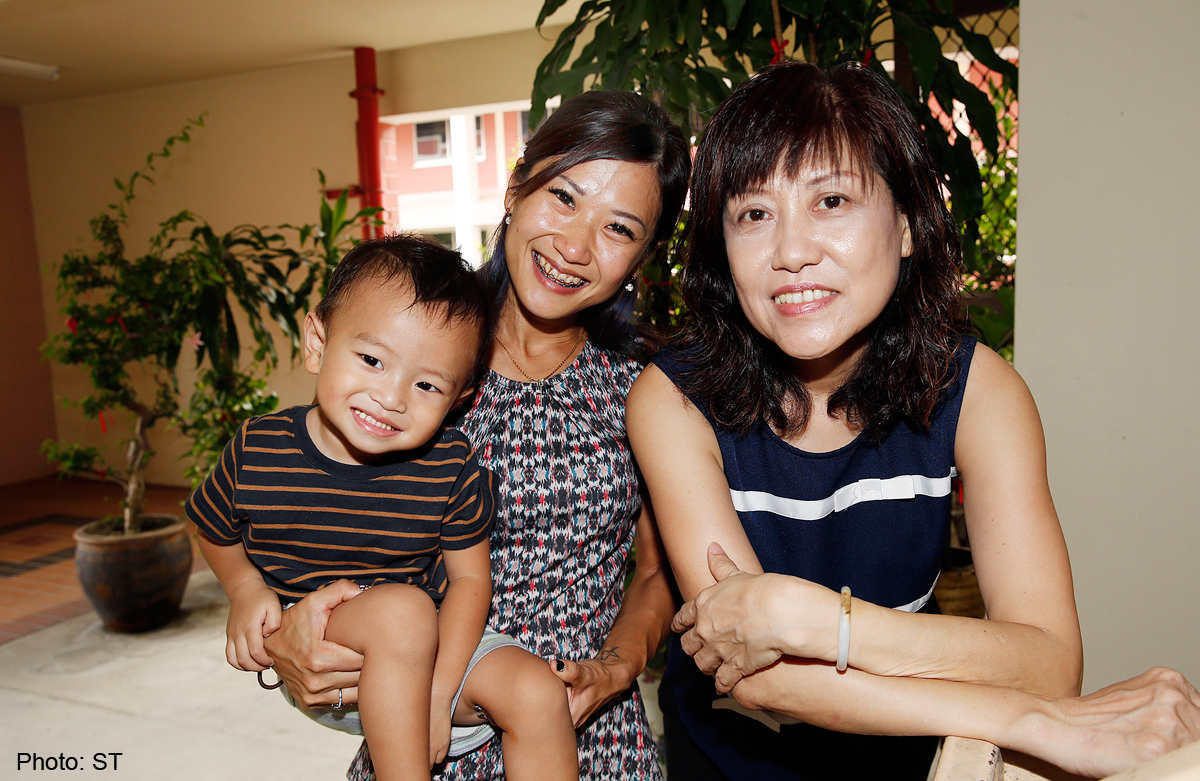 Pole vaulter Rachel Yang's mother was not too keen on her chosen sport, which she took up only at the age of 23.
"It looks dangerous and there's a lot of pressure on her. Rachel's already 33 and many sports people are younger than her," says Madam Sharon Chai, 55, an accounts manager at an automobile firm.
It did not help that the athlete, who set a new national pole vaulting record for the eighth time in March despite taking a two-year break from the sport to have her first child, was seriously injured when she was starting out.
Ms Yang, who will be competing at the South-east Asian Games held in Singapore next month, recalls: "I tore my ligament during my first training session for pole vault. I was in crutches."
Her mother says: "As a parent, it was heartbreaking to see her injured."
Ms Yang says: "Since my school days, when I took part in sports including badminton, volleyball, track and field, as well as javelin, my mum did not encourage me. She's an indoors person, she likes handicrafts."
She and her husband and coach David Yeo, 41, a lecturer at Republic Polytechnic, have a two-year-old son, Zacchaeus.
She says: "My husband is very supportive, but over the years, very few people have supported me. I've got used to it."
She has previously had disagreements with the Singapore Athletic Association and has also battled perceptions that, at 1.57m, she is too short for the sport. She adds: "I didn't involve my parents in the challenges I faced because I didn't want them to be worried."
The eldest of five children, she is a marketing and partnerships manager at the Singapore Sports Hub and is also pursuing a Master of Business Administration part-time. Her father, retiree Yeo Bak Hai, a former businessman, died of liver failure in March at the age of 58.
Madam Chai is now reconciled to her daughter's athletic career and says: "I hope she achieves glory for Singapore at the SEA Games."
What sparked your interest in pole vaulting?
Ms Yang: I got into pole vaulting because of my husband. We met at Hwa Chong Junior College, where he was a coach in pole vaulting and where I was studying. But we dated only a few years later. I would wait around for him to finish coaching and he asked me to try pole vaulting.
When I first picked up pole vaulting, I was scared. I told myself, if I want to start this seriously at the age of 23, the only platform is major events such as the SEA Games. And if I set a goal for myself, I want to achieve it before I give up. I couldn't find a coach to take me to a higher level for the other sports I did at school previously.
Madam Chai: Previously, I felt that she needn't spend so much time on sports. She studied so much. She obtained a bachelor's degree in speech therapy from Flinders University in Australia. She could have used it for work.
How do you manage your time as a national athlete, working mum and an MBA student?
Ms Yang: My mum influenced me a lot in this as she was a great multi-tasker. She did the housework and also sewed our clothes and knitted sweaters for us. My dad was a very laid-back person.
Madam Chai: I feel that Rachel is very busy as she pushes herself. There is a lot of pressure from her sport.
What was your childhood like?
Ms Yang: I have three younger sisters and a younger brother. I spent most of the time playing with them. Because I'm the oldest, my mother had a lot of expectations of me. She would copy examination papers from other primary schools. I was very touched. She was doing so much for us, I felt I needed to do well in my studies.
She was a housewife when I was in primary school and spent a lot of time with us.
Madam Chai: During the school holidays, we'd go to the community centre for calligraphy lessons, for instance.
Ms Yang: She wanted me to be arty-farty. I was writing poems, drawing and painting. I won a few prizes. She wanted to develop me in that area and signed me up for art and calligraphy classes. I was more into sports already and playing badminton for my primary school, CHIJ Our Lady of Good Counsel.
Which parent were you closer to?
Ms Yang: My dad was very reserved. He used to like fishing a lot and spent time with my brother fishing. I'm closer to my mum because she spent a lot of time with me.
Madam Chai: I used to take the three eldest children out more. I would confide in her as she is the oldest child.
Which parent was stricter?
Ms Yang: My mum. When we were younger, she had high expectations of us, academically. Though she wants us to do well in life, she doesn't really impose unreasonable expectations. My dad was easygoing. If we didn't want to study, it was our choice.
Madam Chai: I think she's the cleverest among my children so I had high expectations for her studies.
How were you disciplined as a child?
Ms Yang: I was very active and mischievous. Sometimes after school, when I was in Primary 4, I would go cycling around the neighbourhood for three hours and get scolded.
Madam Chai: She was caned when she was younger. It was very effective. We caned them on the leg until the time they were in lower primary school. Nowadays, you cannot cane kids. It can be hard to discipline them.
How did your father's sudden death affect you?
Ms Yang: When he was hospitalised for a while, I had to miss my training. After he died, it was very challenging. I was very sad, but I didn't have time to grieve.
Madam Chai: Some things are fated. He's no longer here.
What is your parenting style like?
Ms Yang: Mum's more like a friend. She trusted us. Because of that, we learnt to be independent.
Madam Chai: My husband and I were Chinese- educated. I felt that they should speak Mandarin at home and use English at school.
We felt that our children would have better prospects if they were effectively bilingual.
How is Rachel as a parent?
Madam Chai: I don't see them that often, but Zacchaeus is very close to her.
Ms Yang: We try to visit mum every Sunday but competitions are often held on Sundays. I have a more Western-style of parenting. I try and let Zacchaeus learn through experience. If he runs and falls, he'll learn through the process. But I'll be there, making sure that there's no danger.
I try to spend as much time with him as I can. If it's possible, I take him along to my competitions.
If the parent-child roles were reversed, what would you do differently?
Madam Chai: She studied in Australia and I might have used that qualification for work. Maybe the salary would be higher. But pole vaulting is her interest.
Ms Yang: I didn't work as a speech therapist at all because my commitment is to my sport. I always cherished the days when my mum was a housewife. She went back to work when I was in Secondary 1 and I felt the lack of that bonding. I would have been a housewife for a little bit longer.
venessal@sph.com.sg

This article was first published on May 10, 2015.
Get a copy of The Straits Times or go to straitstimes.com for more stories.