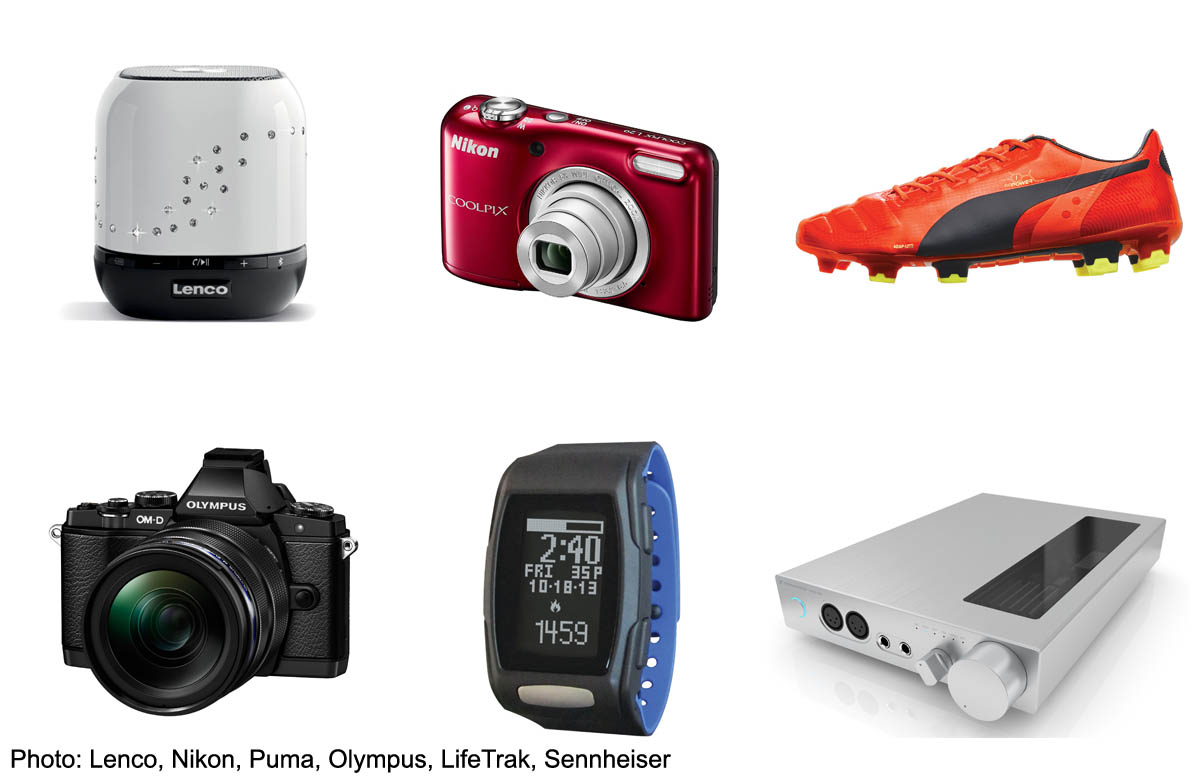 BLUETOOTH SPEAKER
Lenco BTSW-1&2 Made with Swarovski Zirconia
$139
If you are pondering what to get for your girlfriend or wife this Valentine's Day, consider this cool portable speaker.
Available in two designs, the Swarovski Zirconia gems peppering the exterior of the speaker will definitely catch her attention. It is also a nice fashion accessory and something she will be willing to carry in her handbag.
You can share the wonderful music you have in your smartphone with her by connecting to this device wirelessly via Bluetooth. It comes in black or white.
COMPACT CAMERA
Nikon Coolpix L29
$129
Looking for an ultra-affordable digital compact camera to buy for yourself or your children?
This 16.1-megapixel Nikon Coolpix L29 might fit the bill. It has a 5x optical zoom lens with a focal range of 26-130mm and a 2.7-inch LCD screen.
The L29 also features plenty of features, such as an Intelligent Auto mode, multiple filter effects, blur reduction and skin softening. In addition, it uses two AA-size batteries, which are readily available. It comes in silver, black, red and purple.
FOOTBALL BOOTS
Puma evoPOWER
$269
As its name implies, the Puma evoPOWER is all about power. According to Puma, research shows that a bare foot generates a more powerful kick than a booted foot. But a bare foot lacks control and accuracy.
The evoPOWER addresses the issue with its Gradual Stability Frame - a spine in the sole plate - which allows a booted foot to be as flexible as a bare foot while retaining the control and accuracy.
MIRRORLESS CAMERA
Olympus OM-D E-M5 (Elite Black)
Pricing unknown, available next month
The popular Olympus OM-D E-M5 mirrorless camera has been given a facelift. This Elite Black edition now comes with a body which has a black textured powder coating for a traditional camera feel. There is a leather-like material on the grip for a textured feel too.
The main dial and sub-dial have also been redesigned for better handling. The camera has a new firmware update which lowers its ISO setting and improves on the precision of its autofocusing. To cater to professionals, it is now bundled with the high-end Olympus M.Zuiko ED 12-40mm f/2.8 Pro lens.
FITNESS TRACKER
LifeTrak Zone C410
$125
This fitness tracker is said to track your activity around the clock. It can automatically detect when you fall asleep and when you wake up.
Thus, not only does it track your calories burned, steps taken and distance travelled, but the C410 is alos able to monitor your sleep efficiency by tracking your movement and arm posture.
In addition, you can check your heart rate with the C410 by simply pressing a button. It is water resistant down to 30m and uses an easily replaceable CR2032 battery.
HEADPHONE AMPLIFIER
Sennheiser HDVD 800
$2,699
Designed to significantly improve the listening experience of audiophiles, the HDVD 800 amplifier uses full symmetrical signal processing to eliminate distortion and interference to produce superior sound quality.
It has four digital inputs to receive signals from digital sources and transforms them with maximum precision using its advanced digital audio interface and symmetrical digital/analogue converter.

Get a copy of Digital Life, The Straits Times or go to straitstimes.com for more stories.