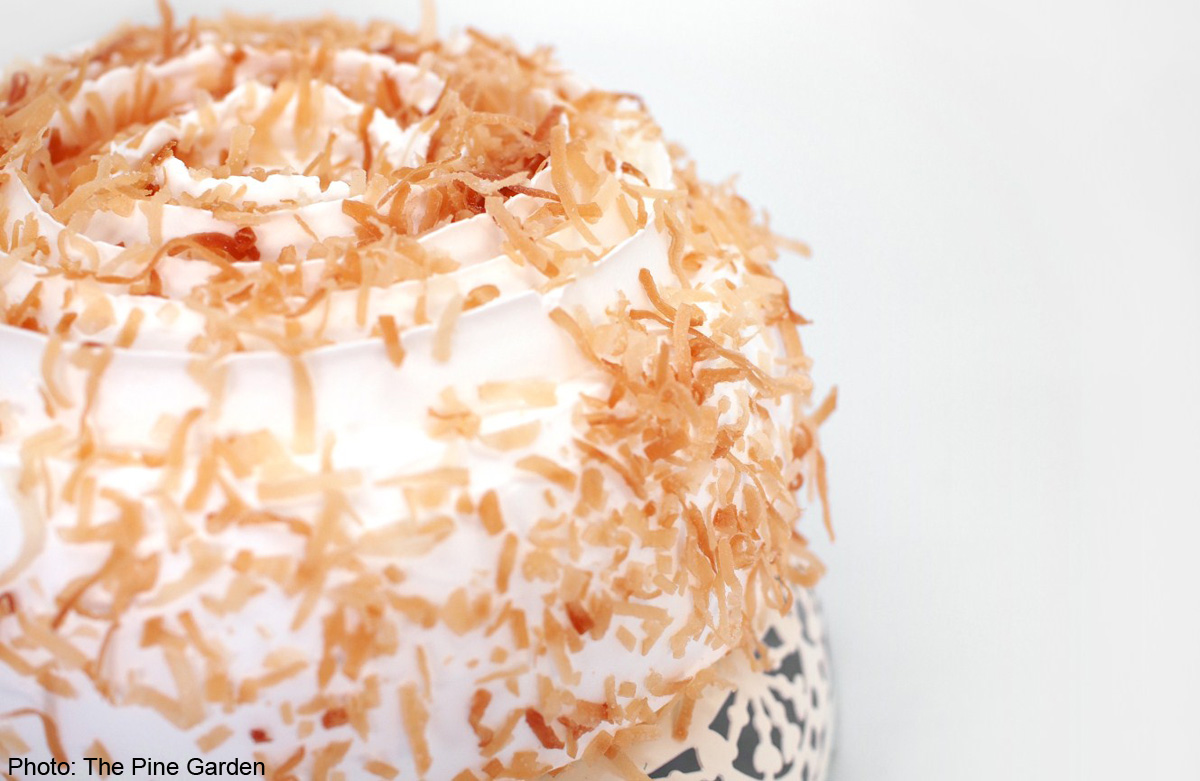 Ever since the Thai-owned Coffeehouse by Dao closed its doors on its one and only outlet at Wisma Atria, it has been hard to find a coconut cake that could match up to the yummy version served there.
But the CocoRum cake (0.8kg at $38; 1.2kg at $58) from Pine Garden bakery comes close, and at a better price point.
It is one of three new cake flavours launched for Mother's Day this year.
The other two are the White Chocolate & Kyoho Grape (0.8kg at $45; 1.2kg at $65) and the Caramelized Onions & Figs (0.8kg at $36; 1.2kg at $54), but the CocoRum cake is the one I would bring home for mummy dearest.
The signature light and airy sponge cake is dabbed with a rum-sugar mixture, and sandwiched between the layers is a lightly-salted coconut fresh cream with bits of coconut flesh ensconced within. The soft but slighty crunchy coconut flesh provides a nice bite with every mouthful.
Although not densely packed with the fruit, the balance is just right against the more-ish, silky cream. The top of the cake is also flecked with shredded toasted coconut.
According to the local bakery with a 30-year history, the coconut cream is made from coconuts grown exclusively in natural plantations in the Ivory Coast. The rainfall in the area is lower than other producing countries, giving the coconuts a more pronounced flavour.
The flavour of rum is not that discernible in the cake, but it is not an issue for a non-alcohol lover like me.
The other two flavours are just slightly too creative for my tastebuds. The White Chocolate & Kyoho Grape cake reminded me of my childhood favourite, grape gummy candy, and bits of the jelly are actually embedded within the white chocolate ganache cream. Kids may enjoy this.
White Chocolate & Kyoho Grape cake
As for the Caramelized Onions & Figs cake, made with a red onion marmalade, it overwhelms the senses and is too far out for me, although a colleague proclaimed it "not bad".
Caramelized Onions & Figs cake
The full range of Mother's Day cakes are available for sale from May 1 and will also be sold per slice. For more information, go to www.pgcake.com, or email enquiries@pgcake.com.
Where: The Pine Garden
Address: Block 529 Ang Mo Kio Ave 10 #01-23, Singapore 560529; Tel: 64595507
candicec@sph.com.sg