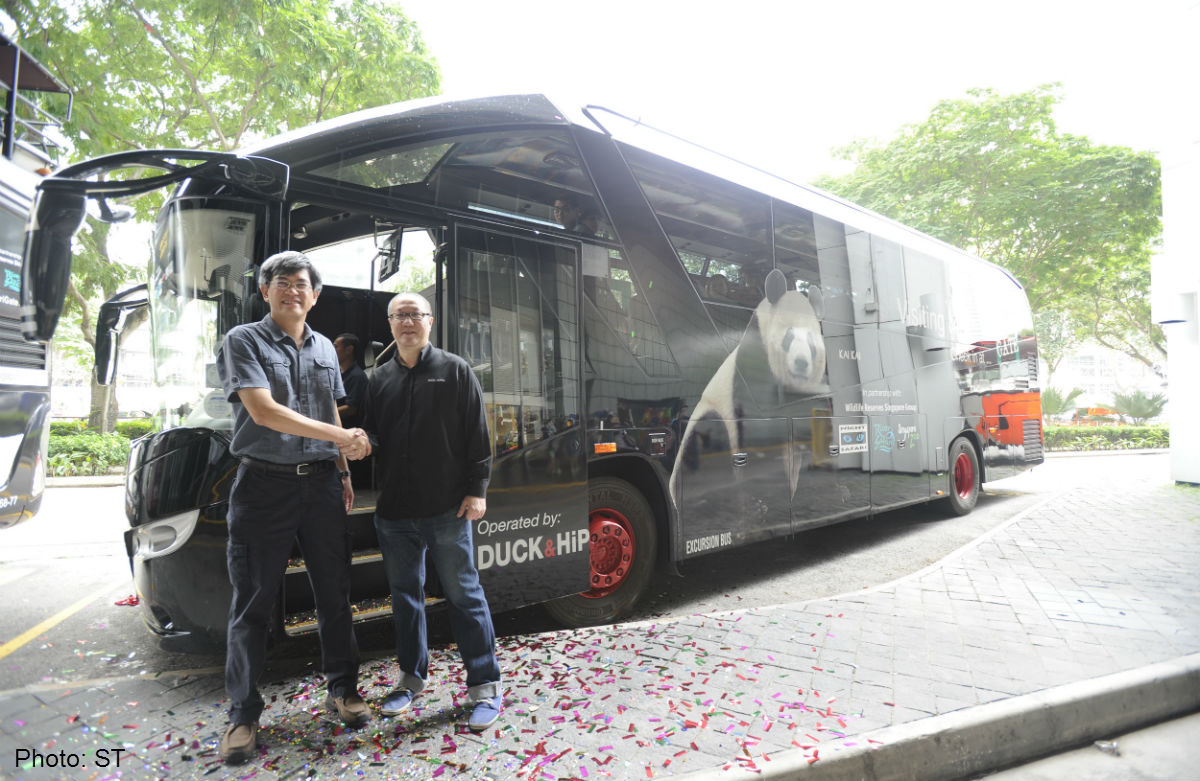 Tourists and Singaporeans hoping to visit the three wildlife parks in Mandai - the Singapore Zoo, Night Safari and River Safari - now have another way to get there.
A new coach service, officially launched yesterday, takes them from the city directly to the parks and back.
Called Safari Gate, the service is a collaboration between tour company Duck and Hippo and Wildlife Reserves Singapore (WRS), which owns the parks.
Currently, visitors can get to the parks by taking a taxi or a bus. Another bus service, called the Singapore Attractions Express, also picks up visitors from various locations, such as Chinatown and Little India, and ferries them to the Mandai parks.
"During peak periods or when it's raining, it's difficult for visitors to get a taxi to Mandai. We want to offer them as many alternative transport options as possible," said the chief executive of WRS, Mr Lee Meng Tat.
Under the new service, coaches depart almost every hour from Suntec City and the Singapore Flyer. They make 10 trips a day to Mandai between 8.30am and 6.30pm.
From Mandai, they make nine trips a day back to the two locations, with the last returning coach at 10.30pm. On Fridays, Saturdays and the eve of public holidays, an additional coach leaves at 11pm.
One-way tickets cost $7 for an adult and $5 for a child, and do not include park admission charges. Each ride takes between 45 minutes and an hour.
Those staying in hotels in the city can make use of free shuttle buses that will take them to Suntec City or Singapore Flyer to catch the coaches, as long as they purchase tickets to the parks.
The coach service allows visitors to tour the parks at their own time and pace, said Duck and Hippo's chief executive James Heng.
"(It's) a departure from the current market offering of fixed-time group tours. It's free and easy; no more fixed timing or itinerary," he said.
Since the soft launch of Safari Gate a month ago, twice as many people are using the service to get to the parks, Mr Heng added, without giving absolute figures.
Mr Lee said WRS is working with transport companies to plan a loop bus service around the Jurong Bird Park, to make it more accessible to visitors.
As part of the launch yesterday, guests from the Movement for the Intellectually Disabled of Singapore were taken to the River Safari on board one of the coaches to spend an afternoon there.
mellinjm@sph.com.sg
This article was published on April 30 in The Straits Times.


Get a copy of The Straits Times or go to straitstimes.com for more stories.