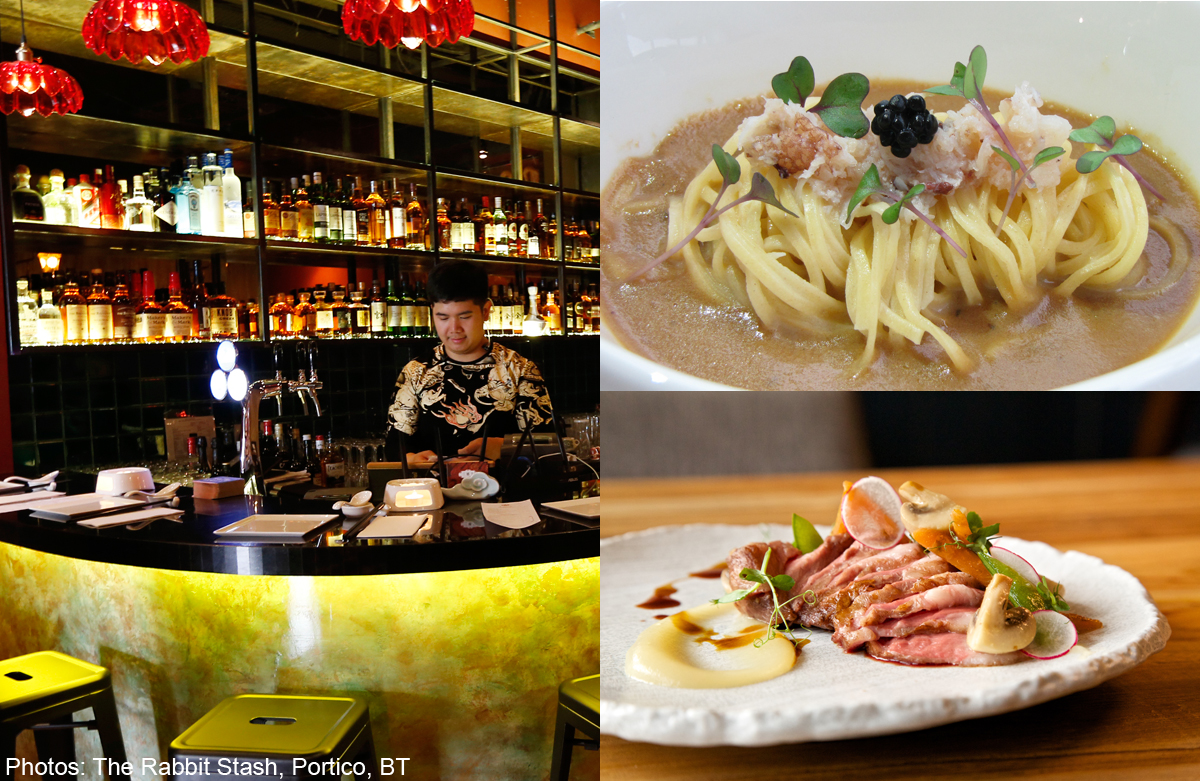 The only constant in the F&B industry is change. And no one knows it better than three chefs/restaurateurs who are taking on new challenges in their businesses. By Rachel Loi and Tay Suan Chiang
Dream restaurant
The Rabbit Stash
Rooftop of Wangz Hotel
231 Outram Road, Level R
Opening hours: Tue to Fri, noon - 2pm.
Mon to Sat, 6.30pm - 10.30pm
6595 1380 www.therabbitstash.com
The Rabbit Stash has had multiple homes. When chef-owner Matthew Mok first opened his contemporary fine-dining restaurant in early 2011, it was a mere 12-seater made up of three tables lined up right in front of the kitchen, tucked away in Pandan Valley Condominium near Dover.
Almost two years later, he moved into a larger, but still cosy, 30-seat indoor space in yet another condominium - Alexis in Alexandra. However, Chef Mok still remained unsatisfied. "Rental was relatively reasonable, and it was a pleasant place, but something was missing as it didn't fulfil my dream of having a garden concept on top of a mountain," says the 39-year-old chef.
So in mid-December last year, Chef Mok reopened The Rabbit Stash once again - this time on the rooftop of Wangz Hotel in Tiong Bahru, complete with a panoramic view of the surrounding estate and metal grills for him to start his own vertical garden.
Glancing around at his brightly lit, modern-looking establishment, Chef Mok flashes a satisfied grin and says: "We're on top of a building instead of a mountain now, and I like it here very much. I think I found my final destination."
The Rabbit Stash reopens officially on March 14, with 30 seats indoors and about 26 outdoors. For lunch it serves a two-course (S$36+) or three-course (S$54+) menu, while at dinner there is the option of either a four-course (S$90+), five-course (S$108+) or seven-course degustation menu (S$148+).
Chef Mok defines his food as "a lot of French technique, plus a bit of Asian and Chinese, with local flavours incorporated", along with influences from his Peranakan roots. He wouldn't call it fusion, however. Instead, Chef Mok says the food follows his philosophy of seven themes - exotic, nostalgia, soil, ocean, pristine, heritage and impression - and these seven make up the courses on the degustation menu.
For example, the "exotic" item on the menu might include mango-flavoured cheese with green curry. His "nostalgia" course recalls familiar flavours such as handmade noodles in lobster broth with purple crab and black roe.
Now that he has found the ideal location for his restaurant, Chef Mok explains that his intention is to focus on it for at least the next few years before even considering opening another outlet at all.
He says: "I hope to watch this place grow into an international brand with worldwide recognition, so people can have a taste of what contemporary dining is in Singapore and know that there is talent here. I want Singapore to get recognition that we have a food culture, and a strong culinary presence.
RAISING THE BAR
Portico
991B Alexandra Road, #01-10
Opening hours: Mon to Sat, 11.30am - 3pm, 5.30pm - 11pm. Closed on Sundays
6276 7337 www.portico.sg
There are truffle fries, and then there is the Ultimate Truffle Fries. A mountain high 800g of truffle-drenched fries, sprinkled with white truffle salt, 10g fresh autumn truffle shavings, topped with shaved aged Gruyere and edible gold leaf.
The souped up hipster snack is the creation of Nixon Low, head chef of Portico. Chef Low took over the reins of the Portico kitchen from chef Leandros Stagogiannis, who left after his consultant contract ended in August. The two chefs had previously worked together at Saint Pierre.
On the Ultimate Truffle Fries, Chef Low says: "Truffle fries are popular, but why not go all out to take the dish many steps further."
The current team at Portico is still pretty much the same as it was when Chef Stagogiannis was in charge. The food remains "modern European, but with a twist", says Chef Low. He adds that he and his team are still in the midst of fine-tuning the menu. Some items are his creations while others are still from the old menu.
One area that Chef Low has tweaked is the bar tasting menu. Here, Chef Low customises a five, seven, nine or 11-course menu using the ingredients for the day. A five-course menu starts from S$90++ per head, and requires three days' advance reservation.
Chef Stagogiannis also had a bar tasting menu before, but that was put together by selected dishes from the a la carte menu. Under Chef Low though, diners won't know what to expect when they come for the bar tasting menu.
Each course is specially created and beautifully presented in tasting portions and cannot be found on the regular menu. Chef Low will prepare and plate each course in front of the diner.
For our five-course menu, he presented his Penang laksa using fish noodles; steamed egg custard with caramelised smoked eel and shaved truffle; foie gras terrine served with toasted brioche, beetroot gel and Granny Smith apple sorbet; sous vide charcoal smoked Iberico Pressa with fried Thai garlic and ginger and celeriac puree, and finishing with Milo Dinosaur. The laksa and Milo Dinosaur are dishes on the menu for Restaurant Week, but Chef Low says that diners can place orders for them when they come for the bar tastings.
Chef Low is no stranger to the role of being head chef. The Temasek Polytechnic hospitality management graduate last headed the kitchen at Petite Menu, the resident restaurant of Aqueen Hotels Pte Ltd. He left when the hotel wanted a change of menu concept. The 28-year-old has also worked at Shangri-La Hotel and Restaurant Andre.
While he now has free rein over creating Portico's menu, he is quick to point out that it is all about team effort. His team of six chefs often come together to think up new dishes, and all the chefs personally master each dish. "Creating new dishes is the way to drive the young chefs in the team," he says.
By the end of the month, Chef Low will include new dishes on the menu such as wagyu beef cheek with yuzu and pomme mustard mash and passionfruit tart. "The plan is to revamp the menu every six months," he says.
By Tay Suan Chiang
taysc@sph.com.sg
@TaySuanChiangBT
ONE IS NOT ENOUGH
Sum Yi Tai
25 Boon Tat Street
Opening hours: Mon to Fri, 11.30am - 2.30pm and 5pm - 1am
Sat, 5pm - 1am. Closed on Sundays
www.sumyitai.com
Dressed in a simple black polo T-shirt and jeans, complete with an apron to clear plates from tables, who would guess Ricky Ng was once chief operating officer (COO) of Tung Lok Group.
But two years ago, he struck out on his own and started a modern Chinese restaurant, Blue Lotus, at Sentosa's Quayside Isle. Now, he is strapping on an apron again to work on his second venture - a Chinese eatery on Boon Tat Street named Sum Yi Tai.
"With my experience in Tung Lok - running so many restaurants - opening just one isn't enough for me," says the 43-year-old restaurateur with a chuckle.
The week-old restaurant is a partnership with Tay Eu-Yen (co-founder and former executive chairman of the now-defunct Butter Factory Group) and Sandra Sim (former managing director of Sauce Bar - a subsidiary of The Butter Factory Group), who both incidentally used to patronise Blue Lotus, Sum Yi Tai's culinary partner.
"The food comes from me and my kitchen team, while Yen and Sandra do the drinks... It's a good marriage," says Mr Ng.
Housed in a four-storey shophouse, the first floor is a bar, the second is a dining space, the third is an office, and the fourth floor is an invite-only rooftop bar. The bars are slated to officially launch by early April, while the second floor will open a month later.
They serve Asian tapas as bar snacks such as their signature golden ginger chips (S$10), and Szechuan-style white bait with peppercorn (S$9); as well as full meals such as the king prawn wanton egg noodles (S$16), and claypot rice with minced pork and salted fish (S$25 for two pax). The menu was a result of Mr Ng's observation of a lack of Chinese food around the area.
When asked if he intends to open more outlets eventually, Mr Ng replies: "Definitely. We're just looking for the right concepts and right locations, because for F&B you need to have good food, a good location and personalised service. And if opportunity knocks, we'd even open overseas. We're not in a rush - we're waiting for the right chemistry."
By Rachel Loi
@RachelLoiBT
rachloi@sph.com.sg

This article was first published on Mar 14, 2015.
Get The Business Times for more stories.