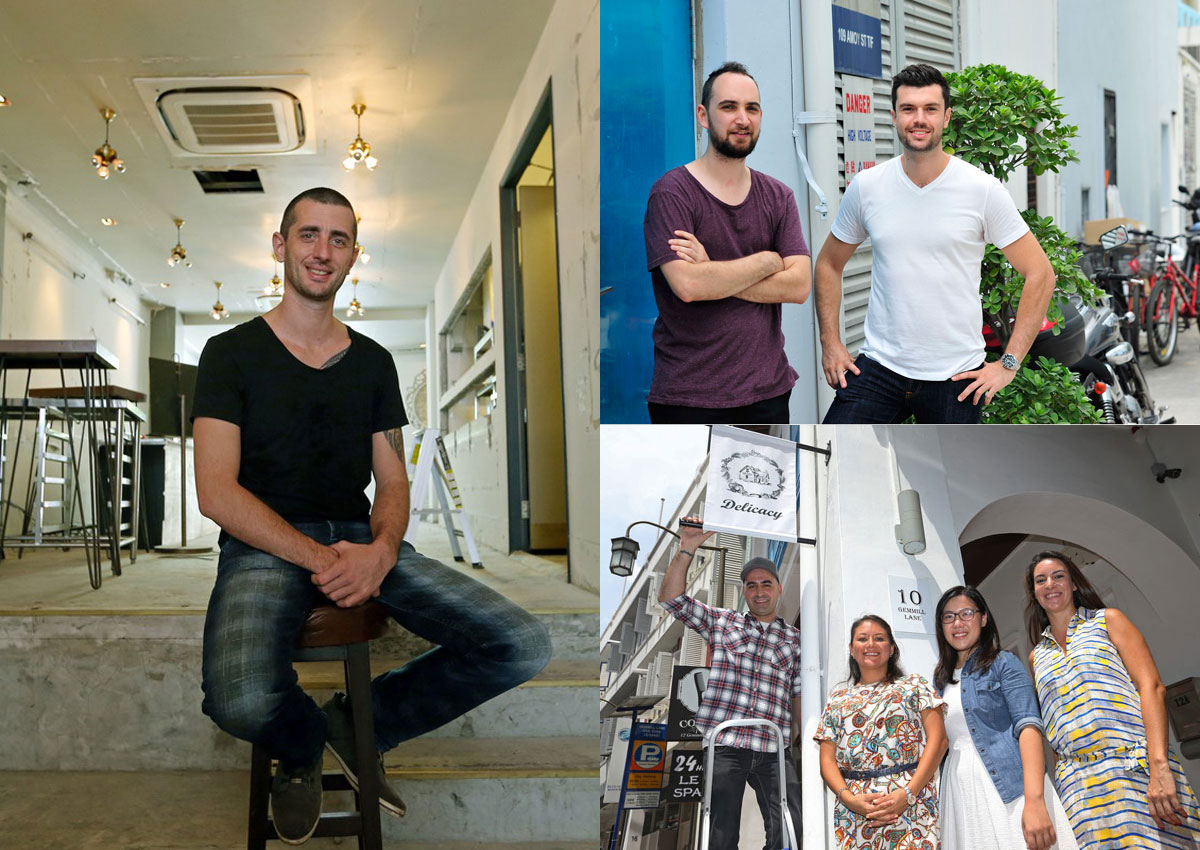 The sounds of hammering and drilling are echoing up and down Gemmill Lane.
Just off Club Street, the little stretch is set for big changes. At least four new restaurants are opening there. Club Street Social, one of the first food-and-drink businesses on the street, is retooling its decor and menu, and Luke's Oyster Bar & Chop House is moving to a bigger space next door.
The lane, named after John Gemmill, a merchant, banker and Singapore's first auctioneer, was known for the friendly Club Street Social, upscale Luke's and nose-to-tail eating restaurant Wolf, which closed recently.
Its quiet and laid-back vibe will soon change, but the new players say they do not see that as a bad thing.
Ms Cherry Chai, 29, who is opening delicatessen Delicacy with two partners, says: "We are becoming neighbours and family, checking out one another. We try not to be in direct competition, we want a mix."
For chef Francois Mermilliod, 40, a veteran in the food-and-beverage scene here, this is his shot at opening his own place and a chance to challenge himself. He worked at Salut and Au Petit Salut and left Absinthe, a French restaurant in Boat Quay, in December last year.
Chef Travis Masiero, 36, of Luke's, sounds wistful when asked about the changes, saying he has mixed feelings.
"I'm sad in some ways," he says. "We used to be the street that nobody knew about, a secret. But this means there will be more people on the street, it will bring some vibrancy."
He says he hopes Gemmill Lane will not be closed to traffic, as part of Club Street is on Fridays, Saturdays and Sundays.
"It inevitably becomes party street, and people put out as many tables as possible on the road," he says. "I'm not necessarily of the mindset that Singapore needs another street like that."
Club Street Social
Where: 5 Gemmill Lane, tel: 6225-5043, open: 11am to 10.30pm (weekday), 9am to 10.30pm (Saturday), 9am to 6pm (Sunday)
Re-opening: End of next month
This laid-back cafe-bar, which has become a hang-out for people who live and work in the area, is undergoing a revamp. It is set to close for renovations on Aug 2 and reopen the last week of that month.
Owner Min Chan, 32, says rising rents have made it difficult for the place to remain as it is.
She says: "Do I just close? I knew that with the current business model, we couldn't sustain ourselves. We needed a new direction."
So she will take Club Street Social a step up, turning her cafe-bar into a restaurant-bar.
It now serves salads and sandwiches in addition to drinks and the average bill a person is $25 to $30. After the revamp, the food and drink offerings will be more sophisticated and the average check will be about $70 with drinks.
The cafe-bar, which now has 33 seats, will have more than 40 seats indoors, and part of the bar, which is the heart of the place, will remain.
She is hiring a chef to produce a menu of rustic sharing plates inspired by Spanish, Italian and French cuisines.
"Everybody loves coming, but nobody eats here and I'm a bit tired of it," she says. "I feel I need a bit of legitimacy."
Slovakian sommelier Tomas Gejdos, 31, will be the general manager when the place reopens. He was head sommelier and bartender at Burnt Ends for two years, and had worked at Restaurant Andre as a sommelier and waiter for 18 months. Before coming to Singapore, he worked in Britain for five years, including at The Fat Duck in Bray.
He has big plans for the drink offerings at Club Street Social, including 20 barrel-aged cocktails featuring classics such as The Last Word, Negroni and the Vesper Martini, but with twists to them. Cocktails will cost about $20 each.
There are also plans to bring in wines from what he calls the "new New World", which includes Slovakia, Slovenia, Switzerland and Bulgaria.
Ms Chan says of the revamp: "The decor will change, sexier is the best way to describe it. But we will try to maintain the super casual vibe. We also want to be different enough that people will notice it."
Delicacy by Food & Wine Merchants
Where: 10 Gemmill Lane, tel: 9830-0908, open: 7.30am to 10pm (Monday to Thursday), 7.30am to midnight (Friday), 10.30am to midnight (Saturday), 10.30am to 3pm (Sunday)
Opening: Soft opening on Monday, fully operational by the end of next month
Delicacy sounds like a chameleon of a restaurant.
In the morning, the 32-seater will serve breakfast from 7.30am, with croissants, eggs, juices and coffee for office workers in the area. Then it morphs into a deli at lunch time, serving salads and sandwiches made with thin-crust baguettes. At dinner time, it becomes a wine bar serving Mediterranean-style small plates, with some larger sharing platters.
And to hear the owners' story, it would seem that serendipity brought them together. Ms Cherry Chai, 29, a former chemical engineer who wanted a career in food and beverage (F&B), was working at Restaurant Andre as a service staff after a stint in New York getting F&B management and sommelier certifications.
She got to know Ms Yiyeksi Marhoulova, 35, through her husband Stepan Marhoul, the general manager of Andre.
Ms Marhoulova was looking to import Czech wine and beer.
They roped in Ms Aurelia Colomer, 33, a Spanish friend of Ms Marhoulova's, and set out to open Delicacy.
They had looked in Chinatown and Tanjong Pagar before finding their spot in Gemmill Lane, a 1,000 sq ft space that used to be a bike shop.
At Delicacy, they plan to bring in artisanal cheese, ham, honey, olive oil, canned fish and marmalade from Spain and other parts of Europe and showcase them in the food served at the restaurant. Some of these items will also be on sale.
Ms Chai says of their European suppliers: "We visited them and they were very touched that we came to their door."
Because many of the food and wine suppliers they are working with are small producers, Delicacy will have an ever-changing selection of products.
Ms Marhoulova adds: "We also plan to bring the winemakers here to showcase their wine with special menus. The cheesemakers want to come here too, to do masterclasses."
Expect to pay less than $10 for breakfast, about $20 for lunch and $40 and up for dinner. Wines will cost $12 a glass on average.
The business partners have hired chef Victor Caballe Molina, 32, former sous chef of the nowshuttered Spanish restaurant Bomba, to head the kitchen.
At night, the offerings might include grass-fed beef filet sliders and pan-seared cod with garlic oil emulsion. Molina says he can also make paella and suckling pig on special order.
He adds: "My style is focused on the flavour of the product. I want to keep it simple and tasty."
Bar-A-Thym
Where: 18 Gemmill Lane
Opening: Soft opening from Aug 24, fully operational from Sept 1
The name of chef Francois Mermilliod's 45-seat restaurant is a play on the French word baratin, which means sweet talk. The Thym in the name is for thyme, a favourite herb in the south of France, where he is from.
Its name sets the tone for the place, which takes over the premises of Wolf, the defunct nose-to-tail restaurant run by The Prive Group. He wants it to be "not so stiff and traditional".
"It is not fine-dining, it is easy-going. There will be no tablecloths or expensive menus," the 40-year- old chef says.
Still, while his is not a fine-dining establishment, he hopes to woo corporate diners at lunchtime.
Taking pride of place in the 1,400 sq ft restaurant is a $50,000, 1.2m by 70cm plancha, essentially a teppanyaki-like cooking surface.
Seafood will be the focus on the menu and he is looking at cooking whole fish, squid from Hokkaido and other seafood offerings on the plancha. There will also be a la carte selections and daily specials. While prices have not been decided yet, lunch is expected to cost about $40 a person and a three-course dinner will be about $60 a person.
The chef is also keen on offering omakase meals, a Japanese concept where diners let the chef decide what they will have.
With 19 years in the food-andbeverage (F&B) business here and in Australia, he has built up a following of loyal diners.
"They will come here and they know I will take care of them."
He says that after leaving French restaurant Absinthe, he was looking to challenge himself. When he was approached by Mr Yuan Oeij, 46, chairman of The Prive Group, he leapt at the chance to start his own place.
"I think it is a beautiful location," he says.
Mr Oeij, whose group is a minority shareholder in the restaurant, says of the chef: "He's someone who has a very strong following and that we felt comfortable working with.
"We had a choice of giving up the space, but we are in F&B for passion and this is an opportunity to learn with a new partner."
Maggie Joan's
Where: 110 Amoy Street, 01-01, entrance from Gemmill Lane
Opening: Mid to late next month
Perpendicular to Gemmill Lane is a row of doors and they are the back entrances to a row of shops along Amoy Street.
One of these doors will be the front entrance to new restaurant Maggie Joan's, run by Moosehead Kitchen + Bar's Daniel Ballis, 28, and his college mate Darren Micallef, 31, who is relocating from Sydney.
The space is the back part of what was once a Taiwanese porridge restaurant. Mr Ballis says the space is too large for the restaurant they are planning and the landlord agreed to rent out the front part of the space, which faces Amoy Street, as office space and to rent them the back part, separated by a soundproof wall.
About 1,000 sq ft of the 1,500 sq ft space will be the 50-seat restaurant and the remaining space might be turned into a bar.
The restaurant is named after Mr Ballis' grandmothers.
"They are both rapt," he says. "They feel like celebrities."
He adds that the food will be modern Mediterranean.
Unlike Moosehead, with its sharing plates, the new restaurant will have a menu of entrees, main courses and desserts. Dinner will be in the region of $80 to $100 a person.
"It is fine, but not fine-dining," Mr Ballis says.
The secret entrance at the back of the building might well work in their favour.
Mr Micallef says that in Sydney and Melbourne, restaurants with hidden entrances in laneways and back alleys have a cachet.
"The restaurant is hard to find, but you take your friends and show them something they haven't seen before," he says.
Luke's Oyster Bar & Chop House
Where: 20 Gemmill Lane, tel: 6221-4468, open: noon to 3pm, 5pm to 1am, last order at 11.30pm (Monday to Wednesday), noon to 1am, last order at 11.30pm (Thursday to Saturday), closed on Sunday
Re-opening: At 22 Gemmill Lane in October
When an insurance firm vacated its office space next door to Luke's and the new landlord offered him the space, chef-owner Travis Masiero, 36, could not say no.
It was an opportunity to have a restaurant with more seats and storage space, but more importantly, he was able to get a long lease.
He says: "The reality is that we are not the owners of the building. So to guarantee that the restaurant can be sustainable, we would need a long lease. I had no intention of moving at first, but now is the time to do it. The space is great."
The new, bigger Luke's is set to open in early October, and the current space will be turned into Italian-American restaurant Angeleno.
Although there will be 50 seats compared with the 38 now, chef Masiero wants to keep the intimacy and personality of the restaurant and says it will not look drastically different.
The menu will be slightly expanded and he will offer whole roasted fish and the jumbo lobsters that are on the menu at Luke's at Robinsons The Heeren in Orchard Road.
Prices are expected to remain the same.
He says: "Our goal is for the restaurant to be here for the next 10 years. It's going to be built to last."
Angeleno
Where: 20 Gemmill Lane
Opening: Mid November
Chef David Almany has quit his job as head chef of Osteria Mozza in Marina Bay Sands after five years and is opening an Italian-American restaurant at the current premises of Luke's Oyster Bar & Chop House. Luke's chef-owner Travis Masiero will move his restaurant next door, and is a partner in Angeleno.
The restaurant is named for the inhabitants of Los Angeles. Almany, 30, and another chef with whom he will run the restaurant, are both from the City of Angels.
Although neither of them are Italian, they have spent years cooking Italian food and it is that cuisine's unfussy style and use of top-notch produce that they will bring to their restaurant.
It will serve Italian food with an American sensibility, says Masiero.
For Almany, this means peoplefriendly, comfort food without the fancy plating with tweezers.
"The food will taste deeply Italian, it will be honest cooking," he says.
Signature dishes include carpaccio sliced thinly from American ribeye steaks, eggplant parmigiana and veal parmigiana made with pounded-out veal chops.
The restaurant will also have a wood grill for steaks and chops and the chef intends to make all the pasta in-house.
Almany plans to bring in tomatoes and other produce from California.
"I think this will separate me from everybody else," he says, adding that the bounty from the United States will likely cost four times what similar produce from elsewhere will cost.
"But once people taste a Delicata squash from California glazed in brown butter as a side dish, they'll understand why it costs $20."
Lunches are expected to cost $30 to $60 a person, and dinner will be $100 to $150 a person.
Construction work begins in October, once Luke's is settled in next door, and the restaurant will be the last on the stretch to open.
"We're saving the best for last," the chef says.
hsueh@sph.com.sg
www.facebook.com/tanhsuehyun

This article was first published on July 24, 2015.
Get a copy of The Straits Times or go to straitstimes.com for more stories.