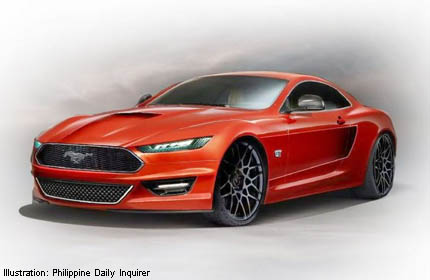 The all-new Mustang, ready to be released next year, is getting younger in looks and even heart, thanks to a dedicated, perhaps a bit fanatical, team of designers who want to continue the revered tradition of this 50-year-old legendary nameplate.
It's unmistakably still a muscle car that the big boys will drool over. But the noticeable changes will also draw the ladies to covet this sexy animal.
A simultaneous global "reveal" held in four key cities stretching four continents allowed invited guests a precious peek at the pony car's latest interior and exterior features.
The rumoured pricing of a unit will be in the upper P3-million ($85,280) range, not necessarily a stiff price to pay for the power and torque - and more - that this iconic brand is imprinted on the memory of a generation of car lovers.
Buzzwords like EcoBoost, Intelligent Access with push-button start to SYNC and MyKey in every Mustang built, plus available Track Apps, MyColor gauges and new Shaker Pro audio system make the 2015 Mustang truly of age - attuned to environmental concerns and information technology advances.
Convertible model
The Mustang convertible model will come with a standard multilayer insulated cloth top that gives the car a more upscale appearance and a quieter cabin. The new top lowers twice as fast as before and has a sleeker profile when folded for open-air motoring.
The information and controls an active driver needs are all readily accessible in the aviation-inspired cockpit, which is executed with the highest degree of craftsmanship found in a Mustang.
The added width and a new rear suspension contribute to improved shoulder and hip room for passengers, and a more usefully shaped trunk can accommodate two golf bags.
The way Mustang looks, drives and sounds are key to the visceral experience that makes drivers just want to get in and hit the road.
With more options to choose from, there is a Mustang to fit any lifestyle. The upgraded V6 and V8 are joined by an all-new 2.3-litre EcoBoost engine that brings state-of-the-art technology to Mustang.
"This EcoBoost engine delivers where a Mustang driver expects it to, with a broad, flat torque curve that pours out when you stand on it for easy passing or hustling down a twisty road," said Dave Pericak, Ford Mustang chief engineer.
When life throws drivers a curve, the all-new Mustang sets new handling benchmarks for the brand, delivering world-class dynamics and ride quality.
"We already set a very high standard for Mustang's dynamics with Boss 302, and our goal was to go above and beyond that with this new car," Pericak said.
The advanced new Ford-developed stability control system is tuned to maximise Mustang's dynamic capabilities.
When the time comes to turn up the wick at the track, Mustang GT includes standard launch control that enables drivers to achieve smooth, consistent starts every time.
When it's time to back off and relax for the drive home, available advanced driver-assist features including Blind Spot Information System with cross-traffic alert and adaptive cruise control can help ease the load, while SYNC AppLink lets drivers control their smart phone Apps to listen to their favourite form of entertainment.