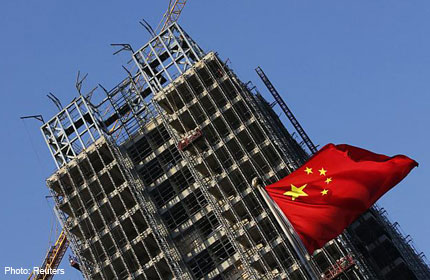 New home prices have continued defying gravity, with price gains in four of China's major cities soaring to their highest in almost three years, even as fears of a housing bubble were reignited.
A lack of new nationwide property curbs over the past few months might have emboldened home buyers, experts say.
New home prices last month jumped 21 per cent from those a year earlier in the southern city of Guangzhou and 20 per cent in nearby Shenzhen. They spiked 18 per cent in Shanghai and 16 per cent in the Chinese capital of Beijing, the National Bureau of Statistics said in a statement on Monday.
Prices rose in 69 of the 70 cities tracked by the government with average new home prices in these cities climbing a record 9.6 per cent for the month of October from those a year earlier, according to Reuters calculations.
Home prices have remained stubbornly high despite a slowing economy and a four-year-long government campaign to put a lid on prices through tighter financing and caps on the number of homes people can buy.
Experts say this is partly due to a strong cultural affinity for property investments, and sales of land parcels by local governments to private developers to generate much-needed revenue.
In response to concerns that housing is becoming less affordable, Beijing pledged to push forward property tax legislation and allow farmers to sell their land more freely as part of sweeping reforms unveiled at the Chinese Communist Party's Third Plenum last week. Centaline Property chief analyst Zhang Dawei said these and previous cooling measures are expected to moderate price gains. Moreover, "a lot of the supply pushed out last year is expected to be completed early next year".
OCBC China economist Tommy Xie said the risk of a bubble is higher in second- and third-tier cities such as Qingdao and Yantai where demand might not be able to keep pace with rising prices.
"There is a certain level of demand in large tier-one cities that might be able to support prices but that is less certain for smaller ones," he said.
Barclays analyst Alvin Wong expects growth momentum to moderate next year, with the increase in the total value of homes sold falling to 7.2 per cent in 2014 from an estimated 25.9 per cent this year as tighter financing and higher prices cool the market.
Shenzhen and Shanghai, for instance, raised minimum down payments for second homes to 70 per cent this month, following a similar move by Beijing in March.
esthert@sph.com.sg

Get a copy of The Straits Times or go to straitstimes.com for more stories.