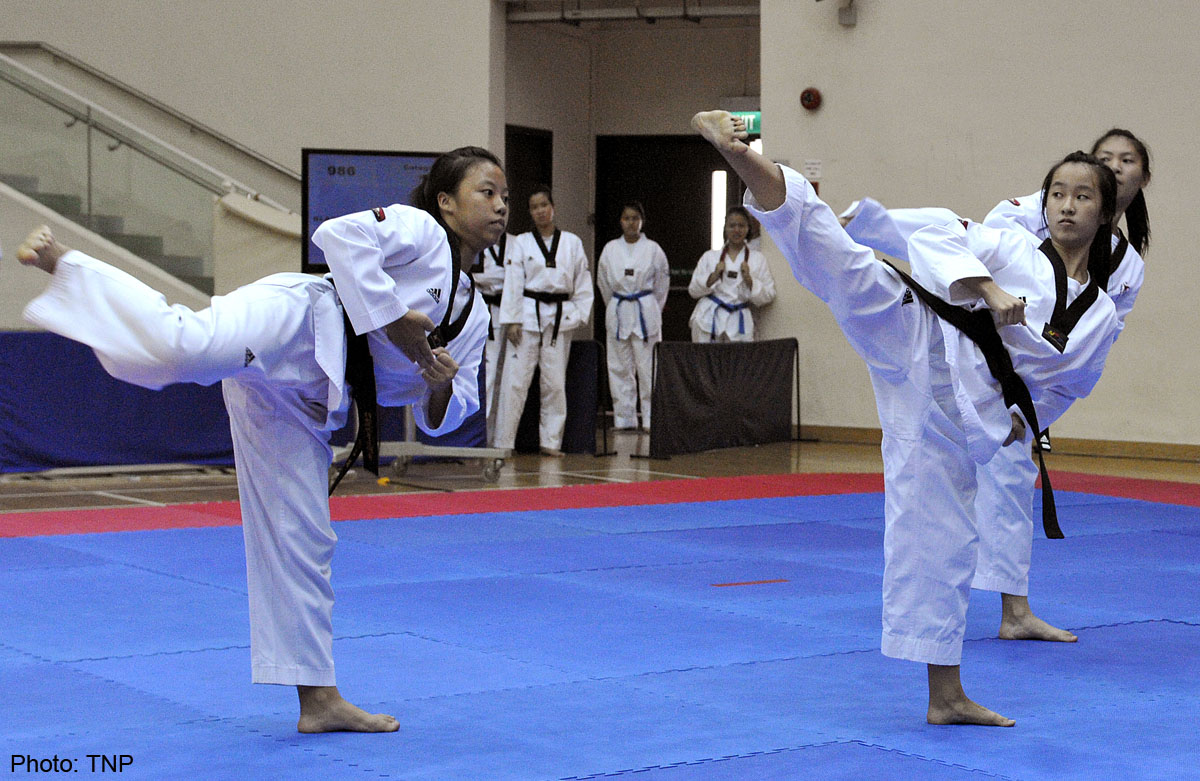 SINGAPORE- The Singapore Taekwondo Federation (STF) is eyeing a bigger medal haul at the 2015 SEA Games on home ground.
And to do that, it intends to focus more on grooming poomsae (pattern) exponents than those in the kyorugi (sparring) discipline. Since poomsae was introduced to the Games programme in 2009, Singapore has sent 11 kyorugi exponents but only six in poomsae. That is set to change.
STF president Milan Kwee told The Straits Times yesterday: "We've been getting some talented poomsae exponents over the years, and our poomsae team have been delivering medals.
"It is an area we will focus on for 2015. There should be the same number of poomsae and kyorugi athletes at least." Singapore had no poomsae representatives at the 2009 Games in Laos but, two years later in Indonesia, clinched one silver and two bronzes compared to two kyorugi bronzes.
In Myanmar earlier this month, the nation's only taekwondo medal came from one of the two poomsae exponents - 17-year-old Chelsea Ann Sim's silver in the three-woman individual contest. In contrast, all five kyorugi representatives failed to make it past the first round.
Kwee said: "We were quite unfortunate with the draw in Myanmar. Two of our kyorugi players met the eventual winners in the first round.
"That said, physically it's getting harder to compete with the Thais, who train full time. Our fighters are usually shorter, which makes it easier for their opponents to score kicks to the head."
With the switch in emphasis, Kwee, who is also vice-president of the Asean Taekwondo Federation, is hopeful of improving the medal haul at home in 2015.
"Over the years, there has been increased participation in the poomsae and demonstration competitions," said the 67-year-old. "Parents also prefer their children to focus on poomsae, because it appears less dangerous than sparring. With more and more people taking it up, we think we can do better in 2015."
He was speaking on the sidelines of the 2nd National Taekwondo Demonstration Championships at Toa Payoh Sports Hall. It is one of the four nationwide taekwondo competitions featuring the poomsae category. The others are the People's Association-STF Taekwondo Championships, the National Poomsae Championships, and the National Inter-School Championships.
Former national poomsae and demonstration coach Tan Cheng Hui has seen an increase in the number of poomsae exponents at his club Acme Taekwondo.
He said: "More competitions means increased participation. It'll be easier to identify talented youngsters for the national poomsae squad.
"It's good to focus on poomsae. It has definitely become more popular, and internationally, we have a higher chance of getting a medal compared to kyorugi."
Meanwhile, national coach Wong Liang Ming assured the kyorugi exponents that the move will not come at their expense. "Yes, we have a good chance of getting a gold medal in the poomsae in 2015, but the kyorugi team shouldn't worry too much," said Wong, a four-time SEA Games kyorugi gold medallist.
"It doesn't mean we will favour one over the other.
"The poomsae team will get more support compared to previous years, but we are committed to giving both disciplines equal opportunities, such as overseas training leading up to the next SEA Games."
Get a copy of The Straits Times or go to straitstimes.com for more stories.