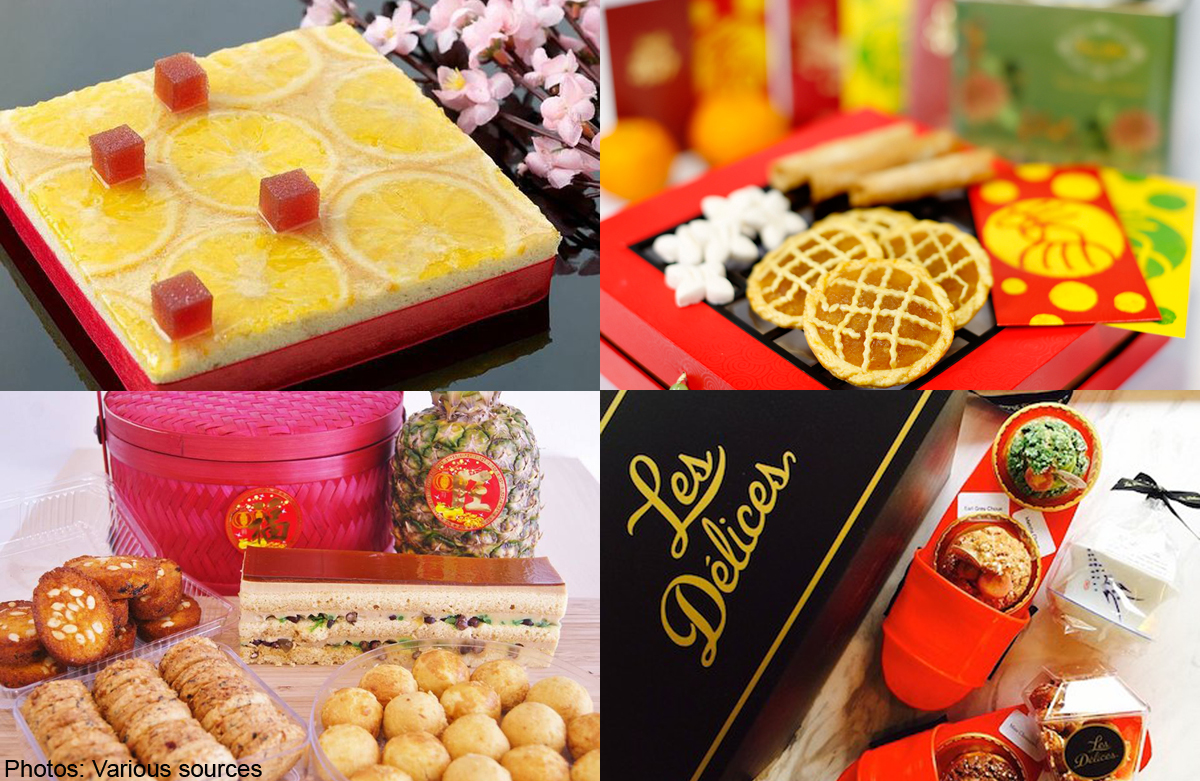 You have less than two weeks to stock up your Chinese New Year snack trays. Here's a list to give you a headstart.
Antoinette
30 Penhas Road 6293 3121
http://antoinette.com.sg/
If you can't get enough of yusheng at your reunion dinner, end off with one - the dessert version, that is. Antoinette's Pang Kok Keong's creation comes in the form of a large chocolate egg, on a "nest" of auspicious sweets such as chocolate fish, ingots and coins, mandarin orange butter cake and meringue kisses. A wooden hammer is brought out and a lucky diner cracks open the egg to reveal fresh fruit such as pineapple, Thai green mango, red dragon fruit, and pomelo, all diced and shredded. A mandarin orange, plum and gula melaka dressing is poured over the dessert, followed by the communal tossing.
Thanks to the chocolate and the dressing, this yusheng is a real sugar overdose but will ensure a sweet year ahead.
Queen's Yu Sheng is available for dine-in or takeaway at S$88++ each, and serves six to eight persons. One-day advance order is required.
Yang Yang Cookies
www.yangyang.com.sg
Yang Yang Cookies is a family-run confectionery which prides itself on baking from recipes passed down through the generations in the Yang family. The goodies includes kueh lapis, pineapple tarts and myriad cookies. Check out the green pea and almond cookies, both retailing at S$18.80 each. The green pea cookies have the taste of real and crunchy roasted green peas, while the almond cookies are sugee cookie-like crumbly with a melt-in-the-mouth texture and satisfying nutty bits. The pineapple tarts are little niblets of buttery and crumbly pastry that don't dissolve into a pasty mess in the mouth, with a good portion of jam. It's easy to keep popping them into your mouth, so be warned.
True Blue Cuisine
47/49 Armenian Street
6440 0449 www.truebluecuisine.com
Still hunting for that perfect pineapple tart? The ones from True Blue Cuisine, a Peranakan restaurant on Armenian Street run by chef-owner Benjamin Seck, come pretty close. The tarts are made from a typical Nyonya recipe handed down from his great- grandmother, except in the old days lard was used, but that has since been replaced with butter. The pineapple jam is just the right amount of sweet and sour, while the pastry is firm and almost crunchy. Aside from their regular-sized tarts, they also offer a larger version, both at S$33 a tin. Also available are addictive prawn crackers (S$25), love letters (S$38), and kueh bangkit (S$22).
And All Things Delicious
462 Crawford Lane #01-61
6396 0820 www.andallthingsdelicious.com
Going traditional also means going retro and baker Dewi Imelda Wadhwa gladly embraces it with her upside down pineapple cake that's one of her newest festive bakes for the season. A light, tender-crumbed sponge cake-base is topped with thick chunks of pineapple studded with walnuts baked till syrupy and glistening. Priced at S$52 and available for order online.
Tiong Bahru Bakery
56 Eng Hoon Street, #01-70
6220 3430
tiongbahrubakery.com
Celebrity French baker Gontran Cherrier gives his take on Chinese New Year with its Pineapple and Coconut Tart. If you can't take another mouthful of sticky pineapple jam, this version turns the fruit into a light and smooth mousse that fills a crisp sugar cookie base, topped with light coconut Chantilly cream, white chocolate disc. A bit of glitter from edible gold leaves completes the whole auspicious look. Each tart retails for S$8.50.
Pan Pacific Singapore
7 Raffles Boulevard
6826 8240 pacificmarketplace.sg
If there's one thing you ought to try out of Pan Pacific Singapore's Chinese New Year takeaway menu, it's their Orange Upside Down Cake (S$38 for 500g). Don't be fooled by how simple it sounds, the cake is pleasantly fragrant and moist, and it works well as a light dessert option after a heavy reunion dinner. Orders must be made three days in advance, and can be collected from Pacific Marketplace or Hai Tien Lo.
Do.Main. Bakery
226 Tanjong Katong Road
6348 1406 do-mainbakery.com
He may be French, but Chef Frederic Deshayes of Do.Main Bakery seems to know a thing or two when it comes to Chinese New Year goodies. His month-old bakery currently offers a "Mandarin orange" version of the eclair, which is made to look just like the actual fruit - wrinkly peel included. Sold at S$9 per set of two, these Mandarin orange alternatives are actually two round choux pastries with Mandarin orange custard piped into it, and coated with a Mandarin orange topping. Of course, what is Chinese New Year without the pineapple tart, which Chef Deshayes has interpreted into a pie-like form, at S$38 for a small one (16cm) and S$58 for big (20cm). It might make your old-fashioned relatives frown, but as a tart it works really well since the honey pineapple and lime zest nicely balances out the heavier coconut daquoise base.
Shisen Hanten
Mandarin Orchard Singapore
6831 6262 / 6831 6266
www.shisenhanten.com.sg
Shisen Hanten's executive chef Chen Kentaro has created a variety of snacks, that include Hokkaido pumpkin cake and durian nian gao. But we think it will be his Golden Ingot Pineapple Tarts that will be a hit. The Chinese love anything that comes in auspicious shapes, so the ingot-shaped tarts will definitely be a hit with visitors. The pineapple filling isn't too sweet, and just the right proportion with the crust. Pop one into the mouth to feel richer, in every sense of the word. Priced at S$38.80 for eight pieces.
Goodwood Park Hotel
22 Scotts Road
festivepromotions.goodwoodparkhotel.com
The chefs at Goodwood Park Hotel's Min Jiang have a new creation this year - a durian nian gao roll that's bound to please durian lovers. The cake looks just like a swiss roll, except it is made up of a sweet D24 durian paste in between chewy layers of gula melaka- infused nian gao, rolled into a log and doused in coconut flakes. The cake is available for dine-in and takeaway till March 5 at Min Jiang and Min Jiang at One-North, at S$28 for two takeaway rolls and $18 for six slices when dining in. Some other highlights of the hotel's offerings are a golden prosperity pumpkin - a pumpkin cashew nut cake coated with gold icing and shaped like a pumpkin (S$88 for 1kg) and their generously-salted chiku (arrowhead) chips (S$24.80).
Out Of The Cake Box
45 Telok Blangah Drive 6271 1975
www.outofthecakebox.com
Step out of the box this Chinese New Year and try the adventurous creations by Out Of The Cake Box - a three-month old bakery in Telok Blangah. The chendol fudge cake (their version of the traditional kueh lapis) tastes just like the popular icy dessert, but in a more practical solid cake form that won't melt into a soup as soon as you take it out of the fridge. It's made up of layers of gula melaka sponge, gula melaka coconut fudge, and traditional chendol ingredients, topped with a gula melaka agar agar (S$23.80 per box). Also try their atap chee pineapple tarts (S$23.80) that have just a hint of atap chee flavour so it's not too overpowering, and the cereal prawn cookies (S$18.80 per box) which are actually more prawn and curry-leaf flavoured than cereal, but still equally satisfying.
Supernature
Forum the Shopping Mall, B1-05/09 6304 1336
www.supernature.com.sg
It's not really lower-calorie so you don't have carte blanche to polish off platefuls of it, but Supernature's limited edition free range bak kwa is certainly a healthier option. Using Linley Valley free range pork from Western Australia - the pigs are raised without antibiotics or hormones - the bak kwa is made to Supernature's specifications by local stalwart Kim Joo Guan. It tastes just like the real thing, only a lot leaner and slightly on the dry side, but at least you know you're snacking with a conscience. Available in limited quantities at S$48 for 500 gm and S$88 for 1kg. Order at the store or online. Collection dates from Feb 11-14 only.
Les Delices
Blk 333, Kreta Ayer Road, #01-14 6536 8087
http://www.les-delices.sg/
This newly opened patisserie is started by sisters Georgina and Glenda Sim. Pastry chef Georgina honed her skills at Le Cordon Bleu in Paris. Their Chinese New Year offerings aren't the usual suspects. There is the Choux Trinity, the signature choux that comes with three delectable crème fillings - Earl Grey, Matcha and Valrhona Guanaja. Priced at S$16.80. There are also the Shortbread Cookie Jars, filled with crumbly and buttery shortbread cookies made with French butter. There are three flavours available - peanut which comes topped with roasted, chopped peanuts; pandan; coconut that is flavoured with coconut cream and topped with toasted coconut flakes. The coconut shortbread tastes very much like kueh bangkit, but with a more buttery texture. Priced at S$22.80 each or S$18.80 each when bought in a bundle of three.

This article was first published on Feb 7, 2015.
Get The Business Times for more stories.