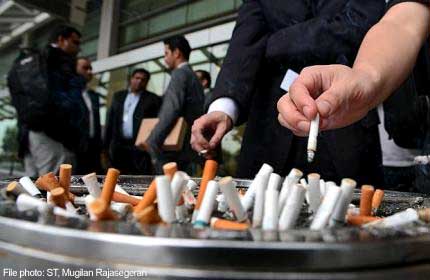 SINGAPORE - An extension of the smoking ban a year ago included areas such as covered linkways and walkways, outdoor hospital compounds and common areas of residential buildings. But a community-led project in Nee Soon South is taking this one step further, giving smokers fewer places to light up in the precinct.
Under a one-year pilot initiative launched by grassroots adviser Lee Bee Wah last Sunday, smoking will be allowed only in six designated areas in Nee Soon South Zone D, which spans 28 blocks.
It is a ground-up initiative and represents a brave attempt to make the area smoke-free for the benefit of all.
Appropriately, smokers will not be penalised if they are caught outside the designated points, but they will be shown where these are by at least 20 resident volunteers.
Such a neighbourly approach to condition social behaviour should be the first line of action, whenever practical.
However, anti-smoking advocates say that declaring an area largely smoke-free may not be enough to get people to quit.
For example, high taxes alone have not deterred many smokers.
Also, Singapore was the first in the world to ban tobacco advertising in 1971, and the first in Asia to introduce gory images on cigarette packets in 2004.
Even so, more and more people continue to light up. Some 14.3 per cent of adults aged 18 to 69 in Singapore smoke, up from 12.6 per cent in 2004.
Still, the initiative deserves support for maintaining a healthy environment in a persuasive rather than a punitive manner.
Breathing fire on smokers or ostracising them can lower the tone of society.
If the scheme works out well, it should be replicated in other areas in Nee Soon South, and hopefully in other precincts, as part of a long-term goal to discourage smoking in all public spaces, save permitted areas.
As tobacco kills five million people worldwide each year, it's an effort worth making.