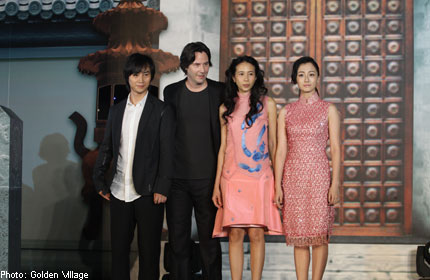 SINGAPORE - It has been said that Hollywood star Keanu Reeves can be a difficult interviewee.
Notoriously private and introverted, the actor reportedly gets through most interviews with a few mumbles here and there, all the while looking uncomfortable and listless.
Either that, or he would turn the entire occasion into a philosophical session, rambling about big ideas in vague, pseudodeep terms - as if he were still Neo in The Matrix movies (1999-2003).
He does that somewhat in a recent interview with Life! for his new movie, Man Of Tai Chi, occasionally throwing up abstract concepts out of the blue.
But the boyishly handsome 48-year-old, who is visibly pudgier than before, is also keen and charming, eager to listen to questions and just as excited to answer them. Laughing easily, he vigorously flails his hands to re-enact certain scenes.
Despite looking tired, having flown in to Shanghai from Los Angeles the previous night for the first stop of an eight-city movie promotional tour throughout China, he is not daunted.
He rubs the lethargy out of his eyes a few times, sits up and cheerily clasps his hands together in enthusiastic anticipation for the interview to begin.
It is as if he knows he has a lot riding on Man Of Tai Chi, which opens in Singapore today. It is his directorial debut.
Speaking in his signature deep, almost monotone, drawl, he says with a grin: "This has been a long time in the making, you know - more than five years to develop. It's a little exhausting to be running around everywhere to promote it, but the pain is sweet because I know more people will get to learn about it.
"This is a story that I wanted to tell and I'm proud of it."
Shot in Hong Kong and Beijing, the American-Chinese co-production features dialogue largely in Mandarin or Cantonese, and is about the Chinese martial art of taiji. It stars an unknown in the lead - Chinese martial artist Tiger Chen. Reeves acknowledges how ridiculously risky it all sounds. He may have inherited some Chinese blood from his father's side (his father is half-Hawaiian, half- Chinese), but the Canadian actor, who grew up in Toronto, certainly does not speak the language.
"When I tell people I'm doing a gongfu movie that is in Mandarin and Cantonese and set in China, they're like, 'Um, you do know that this is a gongfu movie that is in Mandarin and Cantonese and set in China, right?'", he says with a laugh. "I know it seems so insane to other people, but I wanted to tell this story and I didn't see any reason why I couldn't do it."
His inspiration for making the 200-million-yuan (S$42-million) gongfu film boils down to his love of Chinese martial arts from childhood. "I grew up in Toronto and they used to play gongfu movies on Channel 77. I obviously grew up with Bruce Lee, but later on, there were also Sammo Hung movies and then Jackie Chan - that is, Jackie Chan, early Hong Kong style and Jackie Chan, later Hong Kong. I watched a lot."
He sits up suddenly and says in a raised voice: "Then I got exposed to Jet Li's works and when I saw Fist Of Legend (1994) and Once Upon A Time In China (1991), I was like 'Oh my God, oh my God, oh my God, that is amazing'."
In Man Of Tai Chi leading man Tiger Chen, Reeves is confident he has the next big action star. "He certainly has the talent for it as a martial artist, so absolutely, he's a star. And in terms of acting, absolutely. He is charming and has got everything it takes, and hopefully people will respond to him."
Reeves is a loyal friend if not necessarily a shrewd talent scout.
Chen, whom he met and befriended on the set of sci-fi blockbuster The Matrix (1999), has not won over film critics. He "doesn't possess Jet Li or Donnie Yen's charisma", says Variety magazine.
But Reeves, who also stars in the film as a villainous businessman, stands his ground. "Without Tiger, there would be no Man Of Tai Chi. I never considered anyone else for the role," the bachelor says with conviction.
Chen, 38, a protege of acclaimed action choreographer Yuen Woo Ping who worked on The Matrix, had been a stuntman for the movie, as well as Reeves' personal gongfu trainer. They soon found themselves in lengthy discussions about gongfu and martial arts.
Reeves recalls their talks: "He used to tell me stories about how an old taiji master would sit outside with bird seeds in his hand and the bird would fly over to his hand. And the master would take the bird's chi and it couldn't fly away. I'd be like, 'No way', but Tiger was like, 'Yes'.
"There is just something more about taiji, something deeper about it, that I found fascinating."
Chen also acted as Reeves' "Chinese cultural guide" while making the film, "pointing out things about dialogue and how there is a different way of speaking with your parents, or with a potential girlfriend, or with your gongfu master".
Well aware of the pitfalls of making a gongfu film as a non-Chinese, Reeves adds: "Oftentimes, outsiders have a wonderful insight into the culture or the story they're telling. When you look at foreign directors of American movies, such as Lee Ang, they have an insight into the culture. Hopefully, I'll be given that same chance by the audiences. It's like a taiji two-way street."
However it performs at the box office, Man Of Tai Chi will not be the last China project that he will be involved in. His production house, Company Films, signed a deal with Shanghai's Fundamental Films in April to co-finance and develop an undisclosed number of projects in the coming years.
"Hopefully, we can make movies that play for both international and domestic Chinese markets," he says.
First, though, he will be getting back to acting. The samurai-themed actioner 47 Ronin, which he stars in, will be out this Christmas.
After which, he will star in revenge action tale John Wick as the titular hitman and in the sci-fi romance Passengers, opposite Reese Witherspoon.
"I'm going to be quite busy in the next year or two. Hopefully, when I get a break, I can start thinking about directing another film again."