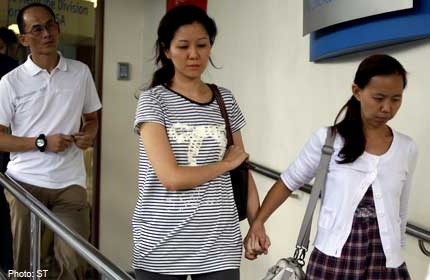 SINGAPORE - He did not drink, smoke or gamble, and had an even temper.
A car mechanic-turned-successful business owner, Mr Tan Boon Sin seemed like the ultimate nice guy: He would offer to pick up his neighbours' children from school, and even offered his workers a $100 incentive to quit smoking.
The 67-year-old, who was found dead in his home at 14J, Hillside Drive shortly after police were told of his elder son's death on Wednesday afternoon, appeared to be universally well-liked.
"He did not drink, smoke, gamble, or womanise. The only thing he liked doing was fishing," said former business partner Chong Hoy Song, 68, who had known Mr Tan since 1965. They later set up Soc Leon Motor Works together, said the retiree.
The owner of the shop beside Mr Tan's in AutoBay in Kaki Bukit said Mr Tan's shop was doing a roaring trade and that "he definitely had no money issues".
"He was a very nice person, well-liked by all of us here. I've never seen him get into arguments with anyone."
He added that the murdered son, 42-year-old Mr Tan Chee Heong, was a university graduate and married with two children.
Neighbours, too, had nothing but kind words for the older Mr Tan, who enjoyed reading the papers every morning at the table in his garden, and would greet them with a smile whenever they passed by.
A businesswoman in her 40s, who gave her name only as Mrs Pang, said the Tans were a tight- knit family.
"I'm very happy to have known them as neighbours," she added.
Mr Tan's death also drew a fellow fishing enthusiast to his home. Mr Alan Tan, 36, who works in the mobile phone business, said his friend's death came as a shock. Their group of 10 had already booked tickets for a fishing trip to Kuching, Sarawak next Monday.
"Even though he was much older than the rest of the group, he never acted like an old man, or better than us," he said. He added that Mr Tan had tried to get him to quit smoking, telling the group about the incentive scheme he offered at his company. "He was always very humble, always joking and happy-go-lucky."
An employee, who said he was in charge of the workshop and had worked with Mr Tan for more than 30 years, described him as caring. The 55-year-old, who wanted to be known only as Ah Siong, said his boss would sometimes leave work even later than his subordinates.
On Thursday morning, at the mortuary, his daughter could be seen crying. She was there with other relatives and friends, but they declined to speak to the media.
The family was back at the Kovan home in the afternoon, leaving shortly before 5pm.