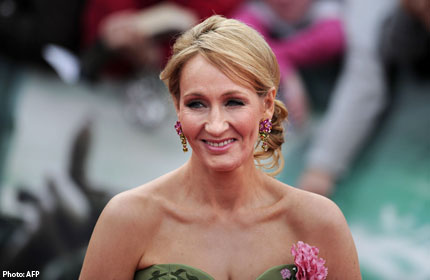 LONDON - J.K. Rowling, the British author of the best-selling Harry Potter books, was forced to reveal on Sunday that she had published a critically acclaimed crime novel under a pseudonym.
The mother of three was unveiled by the Sunday Times newspaper as the writer of "The Cuckoo's Calling", a debut novel about a private detective who investigates a model's suicide.
It is purportedly by Robert Galbraith, described by the publisher as a former member of the Royal Military Police who has since 2003 been working in the civilian security industry.
The newspaper looked into Galbraith after suspicions were raised at how a first-time author with a background in the military could write such an assured debut novel.
After being outed, Rowling, 47, said: "I had hoped to keep this secret a little longer because being Robert Galbraith has been such a liberating experience.
"It has been wonderful to publish without hype or expectation, and pure pleasure to get feedback under a different name."
"The Cuckoo's Calling", which centres around a war veteran injured in Afghanistan, detective Cormoran Strike, won praise from fellow crime writers when it was published in April.
One called it "beautifully written and utterly engrossing", while another said the book "reminds me why I fell in love with crime fiction in the first place".
According to the Sunday Times, it has sold more than 1,500 copies in hardback and a follow-up is expected next year.
The book is published by the Little, Brown Book Group which also published Rowling's first adult novel last year, "The Casual Vacancy" - which won far more mixed reviews.
Expectations were high after the huge success of the seven Harry Potter books, which were made into blockbuster Hollywood movies and made Rowling a multi-millionaire.
Set in a fictional English village, "The Casual Vacancy" is a gritty tale involving sex and drug addiction, but some critics found it dull. Rowling said at the time it was "the best I can do".