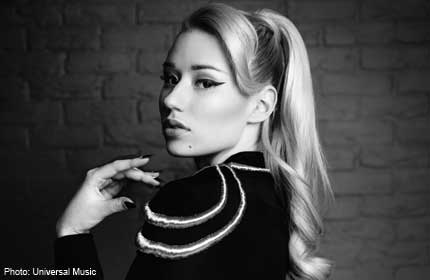 TWO singles into her mainstream hip-hop career, rapper Iggy Azalea is already generating a buzz.
The 23-year-old from Down Under is poised for, if not huge chart success, at least a good year or two in the public eye as the rarest of birds in the music industry: A white female rapper.
That, and the fact that she flew all the way from her tiny hometown of Mullumbimby in Australia to Miami when she was 15 to pursue her hip-hop dreams, makes her an easy sell as an artist - nice to look at and great back-story, not a dime-a-dozen pop star. She is the female rap flavour of the year, the latest in a line of girls who have made careers out of explicit lyrics and expletive-laden Twitter feuds.
There was nasty Tweeter Azealia Banks last year, over-hyped youngster Kreayshawn in 2011 and the now innocuous Nicki Minaj, whose 2010 debut Pink Friday was churning out hits like Super Bass and Fly well into the following year.
Azalea has released two peppy singles, Work and Bounce, this year, ahead of a highly anticipated major label debut The New Classic, due later in the year.
At the same time, MTV announced she is its international PUSH artist this month, which means she'll be on the music channel everywhere, all the time.
When Azalea told Vogue magazine last month that she naturally wants to be "provocative" to carve out her niche, she sounded like she was ready to be sworn in to the swear-happy sisterhood.
But for all intents and purposes, Azalea may be the classiest of the lot.
Born Amethyst Amelia Kelly, her first major label single Work is - barring some nasty words - like many other pop hits, a primer on how to make it in the business through sheer hard work.
Her second single Bounce is a perfect summer pop song, complete with an Indian-themed video in which Azalea gamely swings her hips in a sari and rides on an elephant.
FAR CRY
It's a far cry from her 2011 single Pu$$y, which, as you might imagine, is not about cats.
In the three years since she uploaded her first (pretty raunchy) freestyle videos on YouTube, Azalea has gone from just another girl with rhymes to the face on more than a dozen music and fashion magazine covers and a talent signed to Wilhelmina Models.
A lot of this probably has to do with the fact that she's blonde, leggy and wears red lipstick and her signature high ponytail like a true fashionista.
Meanwhile, sometime-nemesis Banks wasted her flavour-of-the-month status in the fashion world by starting up Twitter feuds with fellow female rappers - Azalea included - and her own former managers (Lady Gaga's Troy Carter and Coldplay's Dave Holmes).
Azalea has also had her share of being virtually slapped by others. Banks and rapper Eve have noted how uncomfortable they are with the idea of Azalea as a serious rapper because of her race.
"(White girls) are privileged and shouldn't be allowed to rap, because rap is black culture," Banks tweeted last year.
Good friend and one-time boss T.I. - who signed her to his Grand Hustle label briefly - has stood up for her.
But classy Azalea has also been vocal about her position in the rap scene, albeit much more politely, directing people to her history of being an outsider.
"I always felt really alone because no one (in my hometown) wanted to talk about the things that I enjoyed, and that was really rap music and hip hop as a culture," she told CNN last year.
After Eve added fuel to Banks' fire last year by saying in an interview that she doesn't understand Azalea, the latter sounded almost sad in her response to XXL magazine: "How could you if you've never been ostracised or loved something you weren't supposed to love?
"Everything you've loved you're allowed to love, so how could you understand me?"
It's a great stance for a star - the misunderstood teen who grows up to live her dreams.
Azalea - who became obsessed with hip hop from the age of 11 when she heard Tupac Shakur's Baby Don't Cry (Keep Ya Head Up II) - knows what her goals are and repeats it every time she's given a chance.
"For me as an artist, my mission is never to 'sell', but instead to connect, connect and connect," she told Blare magazine in May, which explains her constant chatter with her more than 400,000 fans on Twitter.
In a refreshing change from the bravado that permeates most of hip hop, Azalea - who dated US rapper A$AP Rocky last year - openly tells her interviewers that she stopped going to rap battles because she "sucked" at them.
In fact, her entire persona - no chip on shoulder, no raging issues - is a breath of fresh air. Now a major label artist, she's getting used to people calling her out for being a "sell-out", especially after the poppy Bounce was released last month.
She explained breezily to website Digital Spy in May: "With Bounce, I wanted to make sure people know there's a fun side to me as well as the sombre and serious one.
"Some of the fans have been a bit freaked out by the song and asking me why I'm going pop. I'm like, 'It's not all pop, it's summer - relax!'"
And if you're looking for teenage angst on her upcoming album, direct your interest elsewhere. She added: "(The record) is wrapped in a fun package... Actually I need more fun songs about nothing!"