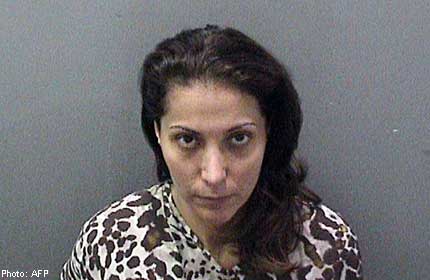 Los Angeles - A Saudi princess was to be released from US jail on bail Thursday after being charged with enslaving a Kenyan woman, forcing her to work in abusive conditions and withholding her passport.
Meshael Alayban, 42, one of six wives of a grandson of the Saudi King Abdullah, paid a $5 million bond and surrendered her passport, the Orange County, California district attorney's office said in a statement.
She "is required to wear a GPS tracking device, is prohibited from leaving Orange County without permission from the Court, and is barred from having any contact with the victim," the statement explained.
Alayban, who was arrested Wednesday, is accused of forcing the Kenyan woman to work 16 hour days, seven days a week, for a monthly salary of just US$220.
The unnamed victim, 30, who sought overseas work to pay for her young daughter's medical care, allegedly worked in Alayban's palace in Saudi Arabia and then in her home in Irvine, California, southeast of Los Angeles.
Prosecutors said the victim had signed a contract with an employment agency that promised her a salary of $1,600 a month for a 40-hour work week.
The princess was charged with "human trafficking of a Kenyan woman into the United States and forcing the victim to work as a domestic servant against her will," the Orange County District Attorney said in a statement.
The victim, who began working in Saudi Arabia in March 2012 and moved to the US with the Saudi family in May 2013, was "forced to work tending to at least eight people in four apartments" in Irvine, California, prosecutors said.
She was given no breaks, no days off, and no chance to leave "except for a family outing so the victim could carry the family's bags."
She told authorities Alayban withheld her passport and refused to allow her to return to Kenya.
Before her move to the US, Alayban told her to lie to authorities about the conditions of her employment during a visa interview, prosecutors said.
But on Tuesday, the woman managed to escape, flagging down a bus. Noticing her nervousness, one of the passengers helped her contact the police. She carried a pamphlet with her, given during her visa interview, explaining her rights.
"She's a smart woman. She saw her opportunity to get freedom and she took it," the victim's lawyer, Steve Baric, said.
When police arrested Alayban, they found four women from the Philippines who could also be victims of human trafficking. Those cases are still being investigated, the prosecutor said.
But on this count of human trafficking alone, if convicted Alayban could face up to 12 years in jail.
It was unclear whether the victim wanted to stay in the United States, but prosecutors said that as a victim of human trafficking she would be entitled to a visa.