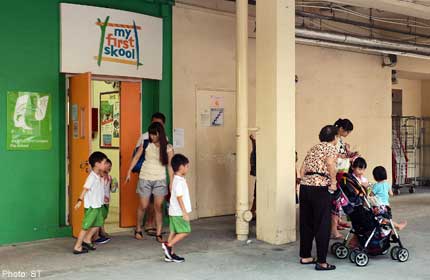 A childcare teacher who allegedly abused a three-year-old boy was sacked yesterday following her arrest, even as more police reports were lodged.
The 51-year-old, who was working part-time at a My First Skool branch in Toa Payoh, admitted that her actions were "inappropriate and has accepted the dismissal", said a statement from NTUC First Campus, which runs the childcare centre.
The statement added that two more parents whose children go to the Toa Payoh branch have also made police reports, and that the childcare chain will "fully" cooperate with these investigations.
The case first came to light when a video of a child being dragged across the floor and pushed to the ground last Friday was circulated online.
It immediately caused an uproar, and the teacher who allegedly committed the abuse was arrested on Sunday.
Yesterday morning, NTUC First Campus chief executive Chan Tee Seng and My First Skool general manager Adeline Tan met about 10 parents whose children were taught by the teacher to address their concerns.
Credit officer Eddie Khor, who attended the briefing, had lodged a police report the day before. He had spotted small bruises and scratches on his 21/2-year-old son's legs about two to three months ago.
These bruises appeared after his son was transferred from the toddler level to the playgroup class, which is for children aged 30 months to three years old.
The boy had also resisted going back to school.
"When my wife raised this matter to the centre, the teachers just told us that children hurt one another when they play around and the staff did not bother to look at any closedcircuit television footage to confirm this," said Mr Khor, 34.
He decided to go to the police after watching the video on Sunday.
He is also considering withdrawing his son from the centre.
The other parent who lodged a police report declined to be interviewed.
The Straits Times spoke to 10 other parents who send their children to the Toa Payoh centre, but most said they did not intend to transfer their child.
Among those whose children had been taught by the teacher at the centre of the abuse allegation, most also said they did not have a bad impression of her.
Barista Erma Kader, 41, whose six-year-old son goes to the centre, said: "I will not take him out of school just because of one case. The teacher used to take care of my son, and she is nice and caring."
Accountant Mei Teo, 32, who has two daughters in the centre, said she found the teacher "okay" but added: "When it comes to children, you may have to be stern. But you definitely can't use physical force."
The teacher was named on Facebook by the child's mother.
Naming her publicly may lead to the identification of the boy, who is protected as a minor under the Children and Young Persons Act.
NTUC's My First Skool is one of the largest pre-school operators here, taking care of about 10,000 children at 101 centres.
Last year, the Government received 75 complaints of "alleged inappropriate child management" in pre-schools - ranging from teachers raising voices to scratches on children. Nearly all were unfounded. In two cases, action was taken against the teachers and pre-schools.

Get a copy of The Straits Times or go to straitstimes.com for more stories.