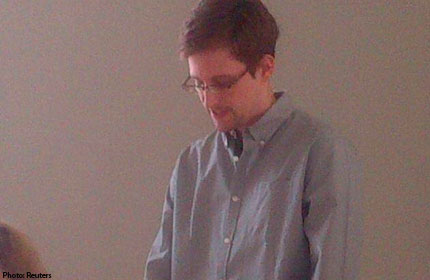 MOSCOW - US intelligence leaker Edward Snowden on Sunday marked three weeks stuck in an airport transit lounge since he arrived in Russia, as a supporter warned the fugitive possessed even more secrets that could damage the US government.
Snowden, wanted by the United States for revealing sensational details of its surveillance operations, flew into Russia from Hong Kong on June 23 and has languished ever since in the transit zone in Moscow's Sheremetyevo airport.
Breaking cover for the first time since he arrived, Snowden told a group of activists on Friday that he was applying for asylum in Russia until he could travel on to Latin America.
But Russian officials have yet to confirm receiving such an application which, if approved, would risk further straining Russia's already tense relations with the United States.
Meanwhile, the journalist first who published Snowden's revelations based about the sweeping US surveillance programmes said he possesses data that could prove far more "damaging" to the US government.
Glenn Greenwald told Argentina's La Nacion paper that Snowden, 30, had chosen not to release this information.
Russian President Vladimir Putin had said last week that Snowden could claim asylum in Russia only if he stopped harming US interests, a remark that prompted the fugitive to withdraw a previous application for asylum in Russia.
"Snowden has enough information to cause more damage to the US government in a minute alone than anyone else has ever had in the history of the United States," Greenwald told the paper.
"But that's not his goal," said Greenwald.
Russia was still waiting Sunday for the promised request for asylum from Snowden, who had said that application would be made on Friday. It was not clear whether the hold-up was simply due to the weekend.
The head of Russia's Federal Migration Service (FMS) Konstantin Romodanovsky said Saturday that "there is for the moment no application from E.
Snowden". If one was made, it would be examined "according to normal legal procedures", he added.
"For the moment, we do not know anything" about an asylum application, Kremlin spokesman Dmitry Peskov told the Interfax news agency.
The United States wants the former National Security Agency (NSA) contractor returned to them to face trial over the leaks. Moscow has so far rejected that demand, saying it has no extradition treaty with Washington.
Washington has reacted sharply to the possibility that Moscow might offer Snowden a safe harbour.
"We would urge the Russian government to afford human rights organisations the ability to do their work in Russia throughout Russia, not just at the Moscow transit lounge," White House spokesman Jay Carney said.
"Providing a propaganda platform for Mr Snowden runs counter to the Russian government's previous declarations of Russia's neutrality," he added.
US President Barack Obama spoke to Putin by telephone Friday on issues including the Snowden affair, the Kremlin and White House both said, but no further details were forthcoming.
The United States has already rebuked China for allowing Snowden to leave for Russia from Hong Kong.
At his meeting with activists, Snowden vowed he did not want to harm the United States but it was not clear however whether this meant he was prepared to stop leaking intelligence in order to stay in Russia.
The leftist governments in Venezuela, Bolivia and Nicaragua have all offered Snowden asylum, but Snowden said that Western governments would prevent him from travelling to the region.
A summit of the Latin American Mercosur trade bloc issued a statement Friday reaffirming the right to asylum and rejecting "any attempt at pressure, harassment or criminalisation by a state or third parties".
The bloc, meeting in the Uruguayan capital Montevideo, denounced four European countries that denied airspace to a plane carrying Bolivian President Evo Morales back from Moscow earlier this month.
They apparently suspected that Snowden was on board.
Mercosur leaders said they would recall their ambassadors from Spain, France, Italy and Portugal for consultations in protest at the incident.
In a statement, they rejected "any attempt at pressure, harassment or criminalisation by a state or third parties" in response to a decision to grant asylum.
US has been hacking Hong Kong and China since 2009: Snowden


Click on thumbnail to view (Photos: AFP, Reuters)