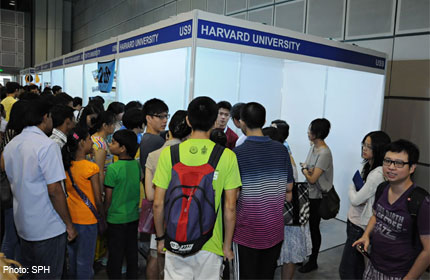 SINGAPORE - For one day only, Singapore Press Holdings' (SPH) CATS Classified will be holding the CATS Recruit Scholarship & Top University Fair, the only event of its kind in Singapore. It will be held on 14 July, Sunday, from 10am to 6pm at Suntec Singapore, Level 3, Summit 1 & 2. Admission is free.
Featuring almost 40 universities and 18 scholarship boards, this year's CATS Recruit Scholarship & Top University Fair is targeted at candidates of outstanding calibre who are seeking scholarships to further their education overseas at prestigious universities from the United States, the United Kingdom, Germany and Australia.
The scholarship boards of top employers will also be present at the Scholarship Fair to attract the brightest and most talented candidates for their organisations.
Some of these employers include the Agency for Science, Technology and Research, Asia Pacific Breweries, Civil Aviation Authority of Singapore, Housing & Development Board, JTC Corporation, MINDEF Scholarship Centre, Ministry of Home Affairs, MOH Holdings Pte Ltd, SPRING Singapore, Yale-NUS College, and many more.
Some illustrious examples among the line-up of universities at the Top University Fair include five out of the eight Ivy League universities from the United States - namely Brown University, Harvard University, Princeton University, University of Pennsylvania and Yale University - along with the University of Warwick, the University of Nottingham, Carnegie Mellon University, and many others. In addition, students and official representatives from various universities will be sharing their valuable insights with attendees.
On the same day, seminars will also be conducted by official representatives from the United States Education Information Center, British Council and for the first time, the Australian Trade Commission.
This exhibition is targeted at scholars-to-be as well as parents and should not be missed.