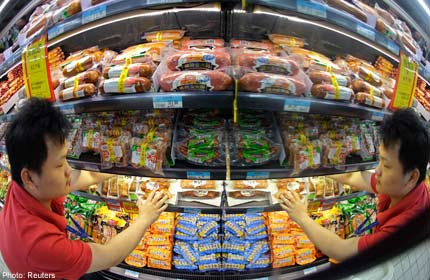 SINGAPORE - When I became a mother, I started doing something I never imagined myself doing - scanning product labels on supermarket shelves.
This retreat into the embrace of Mother Nature began with those cute and colourful jars of baby food. I would scan the ingredient list for zero per cent salt, sugar and additives. They all claimed to be 100 per cent natural, but I decided to study the fine print to be sure.
I was also drawn to gut-warming phrases like "fortified with iron, calcium and B-vitamins" in baby cereals, although I would later find out that such supplementation was code for capitalist technological engineering - healthy fibre had been taken out of whole grains to make them less perishable, and if some vitamins were lost, no sweat, they were put back in the form of chemical letters and numbers.
Then I hit a snag.
The organic and more expensive brands I bought were not stocked as fast on supermarket shelves, and I had a chubby six-month-old who mowed down rice cereal twice a day. Since his infant-care centre was feeding him a cheaper-brand, fortified cereal anyway, I succumbed and bought the same for home.
This tussle between wading through a maze of research and the desire to just switch off the brain and shop similarly confronts me over palm oil.
Indonesia should accept M'sian help


Click on thumbnail to view (Photos: SwitchUp.tv, The Star, AFP, Reuters)
Air quality drops further in Malaysia


Click on thumbnail to view (Photos: SwitchUp.tv, The Star, NASA)
Haze affects Malaysia


Click on thumbnail to view (Photos: SwitchUp.tv, The Star)
Emergency declared in Malaysia as API surpasses 750


Click on thumbnail to view (Photos: AFP, Reuters )
Palm oil is a natural ingredient, but the slash-and-burn practices surrounding its production have led to the suffocating haze blanketing our skies.
The grim lowdown on the issue is this: None of the regional palm oil producers is owning up to causing the still-raging Sumatra forest fires, and the recent nosebleed air pollutant levels can recur any time.
Widespread corruption on the ground means no new probes or regulations by Indonesia will have any effect, so all that is left is for weary consumers to boycott palm oil products.
The problem, as I discovered from Googling, is that palm oil is everywhere.
Throw a stone in your house and chances are, it will hit a product that was made using that offending grease - even if the ingredient list does not spell it out because many countries have no law on the mandatory labelling of palm oil.
Items containing palm oil include biscuits, bread, cakes, canned soup, cereal, chocolate, cooking oil, instant noodles, spreads like margarine and peanut butter and stock cubes. And that's just the edible stuff.
Candles, cosmetics, household cleaners, laundry detergent, soap and toothpaste round out the list of household items that have it as an ingredient.
It gets worse. An environmental website, saynotopalmoil.com, tells you that palm oil is often hidden under "vegetable oil" and can be labelled under some 30 head-spinning names which may or may not have the word "palm" in them.
For example, sodium laureth sulphate - which I found in my shower gel and used "in almost everything that foams".
On the bright side, there is an international non-profit organisation, the Roundtable on Sustainable Palm Oil (RSPO), that promotes the sustainable growth of palm oil without wrecking the environment.
Products with RSPO certification meet these standards, and you can download a list of these brands.
Unfortunately many of them do not look like they are available in Singapore, with the exception of The Body Shop, L'Occitane and Marks & Spencer soaps and Carotino Classic cooking oil.
The Carotino Group is headquartered in Malaysia and its website says its cooking oil is endorsed by the Singapore Health Promotion Board.
Then again, some environmentalists think the RSPO certification cannot be trusted.
The organisation is investigating a few member firms alleged to be involved in slash-and-burn land clearing in Indonesia.
They include Malaysia's Sime Darby Plantation, which has denied the allegations and fingered instead local farming communities that occupy 20 per cent of its land but are apparently outside its jurisdiction.
Slash-and-burn has not only spawned the 15-year-old haze, but it has also choked the life out of orang utans and other wildlife.
So which is more important: greenbacks or being green?
Are we going to reach the state of Beijing, where air pollutant levels were off the charts at the start of this year, leading a Chinese entrepreneur to sell fresh air in soft drink cans, to be quaffed like bottled water?
I lived in Beijing for three years in the mid-2000s, when I was a China correspondent, and I never once saw a blue sky or fluffy white clouds.
It is now becoming increasingly likely that my children will grow up in a place like that.
The buck stops here. Now if only I could stop my eyes from glazing over as I decipher the ingredient list on my tube of toothpaste.
clare@sph.com.sg