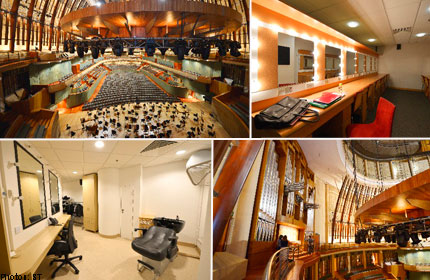 SINGAPORE - Showing off postcard-pretty facades is now passe. These days, walking tours take visitors behind shiny gilded doors to check out the inner workings of various venues.
They can traipse through a holding facility with snakes and insects at the Singapore Zoo, go backstage at the Esplanade to see how sounds reverberate through its halls and watch how orchid hybridisation is done at the Botanic Gardens.
There are at least eight behind-the-scenes tours offered here for places including breweries and food chains.
Some are new to the scene: the Marine Life Park at Resorts World Sentosa launched a backstage tour for children this month.
Children will learn about filtration systems supporting the massive oceanarium and visit a kitchen where aquarists mince and mash food for more than 100,000 fish.
Others, such as the Esplanade and Asia Pacific Breweries which produces home-grown label Tiger Beer, revamped their tours in the past year to include the public, rather than just catering to corporate and tertiary school groups.
It helps the public see the beer brand as an "integral component" of Singapore's heritage in an interactive way, says Ms Shannen Fong, 37, head of corporate relations at the brewery.
The brand will be partnering tour agencies and travel groups so more people can learn about the ingredients used to brew beer, the brewing process and tap and taste fresh beer.
These backstage tours are rising in popularity: The zoo has upped the frequency of its tours from three times a week to daily runs to meet demand, while the number of people signing up for tours at local brand Jungle Beer has tripled in two years.
Life!Weekend goes on eight behind-the-scenes tours here.

Get a copy of The Straits Times or go to straitstimes.com for more stories.