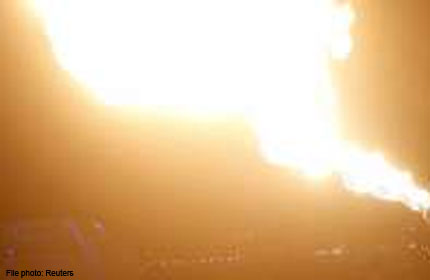 BUTTERWORTH - A fire believed to have been started by a man trying to "kill the devil" has razed four houses in Kampung Bagan Dalam at Jalan Assumption here.
The 54-year-old had allegedly set fire to his double-storey wooden house at about 7.30am yesterday.
A neighbour, Wani Azman, 16, said he saw the man screaming that he "had killed the devil" after setting the wooden structure alight.
"The fire quickly spread to other houses. I shouted for help and fled from my house with my family members. I then saw the man casually walking away from the scene like nothing had happened.
"Luckily, my family's house was spared," she said.
Another neighbour, Abdul Razak Ali, 46, said his family of six was cleaning the house after sahur when he spotted the flames.
"The fire reached my house and razed it within minutes. My nephew managed to carry me to safety," said the wheelchair-bound victim.
Butterworth fire station chief Mohd Khalil Abdul Rahim said 30 firemen managed to bring the fire under control within 30 minutes, adding that a distress call was received at 7.35am.
No casualties were reported and losses were estimated at more than RM250,000. Police are now looking for the man to assist in investigations into the case, which has been classified as arson.
Chief Minister Lim Guan Eng, who is also Bagan MP, later handed over RM1,000 each to three of the house owners while the fourth received RM800 when he visited the scene.
He said the money came from the Social Welfare Department and the state district office.
Businessman Datuk R. Arunasalam also visited the victims, who are staying with their relatives, and gave them rations.