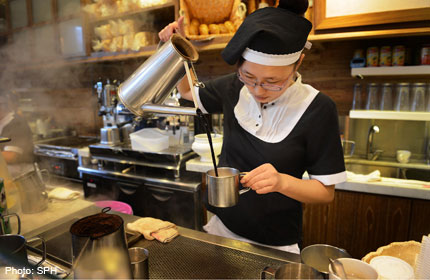 SINGAPORE - From bean to brew, participants at this month's Singapore HeritageFest will get to experience the history in a cup of kopi-O.
The free Coffee Adventures tour will give an insight into the coffee culture here and highlight the traditional roots of today's modern coffee outlets.
The tour begins at a BreadTalk Toast Box branch, which still roasts beans the old way with sugar and margarine. Participants will get to see traditional coffee- pouring methods, an art which is at risk of dying out.
"Unfortunately there is a shortage of younger people wanting to work in traditional coffee," said Singapore Coffee Association president Victor Mah, referring to the way coffee grinds are strained through a cloth, before the coffee is poured from a kettle.
"We have to make people more aware that we have this tradition and we should try and maintain it." But Mr Guan Lim, group beverage consultant for Toast Box, believes there will always be a demand for traditional coffee.
"In their late teens, people can afford to drink a $6 latte, but as they get married, have families, children, mortgage and cars to pay for, they will go back to a 90-cent kopi-O," he said.
After Toast Box, participants will move to Strangers' Reunion to watch Singapore latte art champion Ryan Tan create designs in cups of coffee.
The tour concludes with a trip to Chye Seng Huat Hardware. Do not let the name fool you - this is a coffee bar complete with a roastery and a coffee school. There, participants will learn brewing methods and the proper way to pour coffee.
The coffee tours will be held on July 27 and 28, and registration at the HeritageFest website is on a first-come-first-served basis.
The Singapore Philatelic Museum will also have a coffee-themed exhibition.
This year's festival from July 19 to 28 will celebrate some of Singapore's unique traditions, such as the country's hawkers and its automotive past.