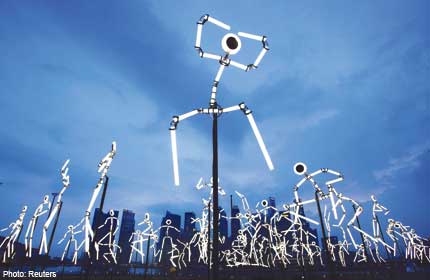 SINGAPORE - i Light Marina Bay 2014, Asia's first and only sustainable light art festival, returns next year from March 7 to 30.
The theme for the third edition of the festival is "Light+HeART".
i Light Marina Bay 2014 aims to engage people through sustainable light art installations that are thought-provoking and inspiring yet 'light-hearted'.
The upcoming edition is therefore about creating unique, happy and heartfelt installations to delight the audience while bringing home the sustainability message.
Organised by the Urban Redevelopment Authority (URA), the festival will present up to 30 light art installations around Marina Bay.
Open Call for Submissions
Interested artists can submit proposals based on the festival theme on or before 8 September 2013. For more information about the Open Call, please go to: www.ilightmarinabay.sg/downloads/Final_Open_Call.pdf
Mr Jason Chen, Director of URA's Place Management Department, said: "Through i Light Marina Bay 2014, we hope to give the community a sp ecial and memorable experience when they visit Marina Bay, to light up their hearts whe n they appreciate and interact with the light art installations. We also hope to continue providing o ur local artists with a platform to showcase their talents and works."
Fresh insights, new ideas The 2014 festival is helmed by a curatorial team co mprising ONG&ONG Pte Ltd's Mr Tai Lee Siang, Mr Andrew Lee and Ms Ong Swee Ong. The curat orial team will be seeking greater involvement and synergy with industry partners, sch ools and design fratenity to bring about fresh insights and ideas.