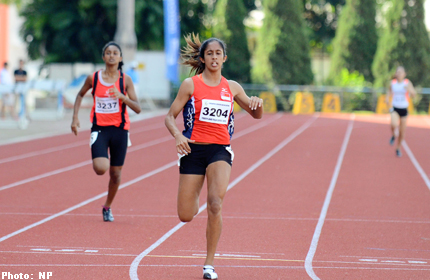 SINGAPORE - After running four races in as many days against the world's fastest youths - picking up two national records along the way - Shanti Pereira was reduced to just one word on Saturday. Tired.
Running into strong headwind, the 16-year-old clocked 24.76sec in the International Association of Athletics Federations World Youth Championships women's 200m semi-finals on Saturday, finishing fifth and missing out on the final of her pet event.
The timing also fell short of the 29-year-old national record of 24.54, which she had equalled during Friday's heats.
"It was so tiring," she said in a phone interview from Donetsk, Ukraine shortly after her race. "I felt like the wind was taking over me, a little bit like running into a wall."
The Republic Polytechnic student was not just weary. She also had butterflies in her stomach.
After all, she was racing in a field that included four runners with sub 24-second timings this season. One of them, Sweden's Irene Ekelund, who clocked a blazing 23.02 on Friday, was just beside her.
Said Shanti: "I was more nervous this time than in the heats because I was up against even tougher competitors."
Still, the former Singapore Sports School student would not trade her experience for anything else, especially after her coronation as Singapore's sprint queen at the biennial meet.
"This has been one of the toughest meets I've been to, but the competition has really opened my eyes," she said.
Shanti now holds the 100m record (11.89), along with the 200m mark which Prema Govindan first clocked in 1984.
Govindan, now 47, was full of praise for Shanti. The deputy director at the Health Promotion Board said: "It's amazing for her to have done all that in one single meet. She's still so young, there's so much more ahead of her.
"I see her going really far. She should be running 23sec very soon. We have a gem on our hands now and I'm really excited about it."
Singapore Athletic Association vice-president and interim chief of sports development Loh Chan Pew also had high praise for Shanti, who was one of only two Asians in the 200m semi-finals.
He said: "She probably could have done a 24.2, if not for the strong headwind (of 3.1m per second). But it's still an excellent performance."
Added Govindan: "Exposure to international competitions really grows an athlete, and you can see that she has blossomed from it. She needs more exposure like this.
"She has proven to give everyone a run for their money, even at this high level."
The former sprinter is sure her successor will have sole honours of the 200m national mark in no time.
"It'll be soon," she said.