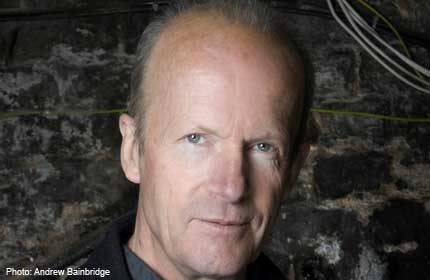 British author Jim Crace has long declared his intention to retire. In 2008, he said that he planned to be done with fiction by age 65. Now 67, and busting his own deadline by a couple of years, he has turned in his last novel.
That means that long-time Crace fans will approach the book with both anticipation and trepidation. There is the hope that the story will live up to expectations, especially since his last, The Pest House (2007), was a distinct disappointment.
But there is also the worry, given his stellar track record, that this might just end his career on a whimper rather than a bang.
So I am happy to report that while Harvest is no eye-popping fireworks display, it is an assured, masterly meditation that gathers power from its deliberately paced storytelling.
In classic Crace fashion, the setting is a mythic village that gains immediacy through the specifics of its creation.
As a storyteller, Crace excels at the tiny details that give form and substance to his creations. Harvest delineates the rhythms of life in a classic English farming community, unmoored in time, but anchored in ancient rituals of planting and harvesting.
This way of life is seen through the eyes of the narrator, Walter Thirsk, a widower who married into the village and is at once a part of it and apart from it.
The village is on the verge of momentous change - Master Kent who rules this patch of countryside has brought in a new man, Mr Quill, who is charting the hills and vales of the terrain. While most of the villagers are still unaware, content in their routine, Thirsk scents change and is uneasy.
On the eve of what should be a celebratory period - harvest time with its promise of plenty - a couple of unrelated events also unsettles the community.
First, Master Kent's treasured pigeons are set loose and the coop catches fire. And second, a trio of scavengers stumble into the village and are blamed for the fire. The trio - an elderly man and his son, and a mysteriously attractive woman - are promptly punished in mediaeval fashion: Their heads are shaved and the men are put in the pillory.
Crace cranks up the simmering unease as the villagers, sensing change, turn on outsiders in a futile attempt to protect their way of life.
Harvest, like all of Crace's best stories, can be read on different levels. On the most superficial, it is a quietly moving story of the disintegration of a community.

But as the story catches you in its ebb and flow, there are little slipstreams of deeper meaning: a subtle study of mob mentality, a look at power and the way it corrupts, an exploration of prejudice.
As he has proven in other books, he is not afraid of stepping up to tackle the big themes of Life, Love, Faith and Death. Here, he looks at how people live their lives within a community, and how that community shapes their beliefs and judgments.
There is a definite autumnal shade to the story, one gets the sense of an elder in the community casting his benevolent, if judgmental eye, over the scrabblings of his neighbours.
There is no meanness in the way he observes their weaknesses; he is not so coldly detached nor ruthless an omnipotent power as, say, South African novelist J.M. Coetzee. But there is the definite tone of regretful rebuke of the moral failings of mere mortals, a gentle prodding in the direction of better behaviour.
A satisfying read that offers rich gleanings for the patient reader. And a worthy footnote to a burnished career. I will regret there will be no more stories from this particular author.

Get a copy of The Straits Times or go to straitstimes.com for more stories.