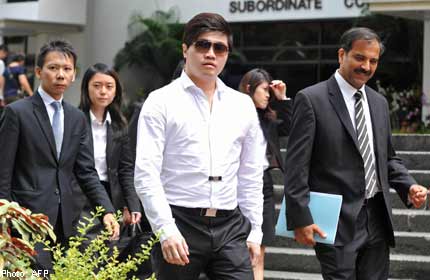 SINGAPORE - A Lebanese football referee jailed for accepting sex in exchange for agreeing to rig matches testified Monday that a Singaporean businessman used YouTube to show him how to fix a game.
Ali Sabbagh, speaking on the first day of the trial of Eric Ding Si Yang, said the businessman sent him "20 to 30" YouTube links to "teach me how to make wrong decisions".
"The videos had too many decisions where the decision made by the referee is not the right decision," he said.
Ding is accused of providing Sabbagh, 34, and two other Lebanese officials with women who gave them free sexual services ahead of a match in Singapore in April in which they were supposed to officiate.
Sabbagh and the other two officials were all pulled out and placed under investigation before the match. He was found guilty in June and sentenced to six months in jail over the scandal.
Assistant referees Ali Eid and Abdallah Taleb were also convicted and have since been released and deported.
Sabbagh said that in a series of email exchanges late last year, Ding told him that the best way to rig a match was to award penalties.
Sabbagh quoted Ding as saying that "nobody will stop you, nobody will do anything... When the corner comes, just blow and say pushing and pulling... If there is anything in the penalty area, you can blow your whistle".
Sabbagh repeatedly referred to Ding as "James", saying the Singaporean communicated with him through the email address jameszen7@gmail.com.
He said Ding, currently out on bail, gave him assurances that he would not be asked to rig matches that would affect his career within the Asian Football Confederation.
State prosecutors said in an opening statement that they filed three charges against Ding for "corruptly giving gratification to three football officials as an inducement to fix football matches that they would officiate in the future".
Ding faces a maximum prison term of five years and fines of up to Sg$100,000 (US$80,000) for each count of corruption.
The case is a colourful addition to Singapore's long history of match-fixing scandals, including allegations that syndicates in the wealthy city-state organised the rigging of hundreds of games worldwide.