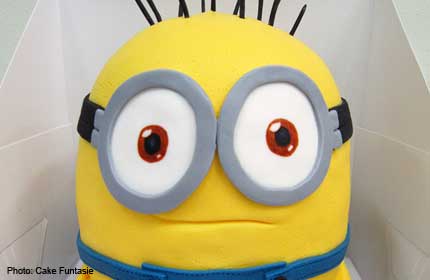 The yellow, pill-shaped creatures who spew gobbledy-gook from the Despicable Me movies are the fad du jour, as savvy retailers cash in with figurines, cakes and nail art.
After a queue-generating Hello Kitty promotion last month, fast food chain McDonald's launched on Thursday a series of palm-sized minions in different designs - free with every Happy Meal you buy.
As of late afternoon last Friday, the first set of three minion toys had sold out. There are two more sets of three toys to be released on Thursdays in the upcoming weeks.
Meanwhile, in Toys R Us stores, minion merchandise - plush toys, figurines and battery-operated toys that talk and giggle - line the shelves.
Tutor Alvin Koh, 30, spent more than $200 on two robot minions at Toys R Us' VivoCity branch last week.
The toys remind him of funny scenes from the movie. He says: "I do not mind spending this much because the minions are adorable, especially when they appear in costume, such as a fireman's uniform when there was a fire in the show."
In the United States, the same toy retails for between US$34.99 (S$44) and USD$59.99, depending on size and design.
While he is aware of the price difference, Mr Koh says he does not mind buying from local stores as it may work out to be about the same amount after the exchange rate and shipping cost.
The sequel to animation flick Despicable Me was released on July 3 in theatres, with the role of the yellow minions - sidekicks of main character Gru - upsized.
The characters will also take the starring role in a spin-off movie, Minions, next year.
Until then, fans are eagerly shelling out for a slice of minion madness.
Cake store owner Sheryl Lim, 26, has seen a 20 per cent increase in orders for a Despicable Me cake design in the past two weeks.
The 4kg custom-made cake at her shop Cake Funtasie, in MacPherson, retails at $320. She makes about two custom cakes a day.
The truly obsessed can have the minions at their fingertips - literally.
At home-based salon Thistlebelle Nail Boutique in Toa Payoh, you can have your nails painted blue and yellow, with miniature black dots for "eyes". More than 20 people have called to ask about the gel manicure design since it was introduced two weeks ago, says the salon's owner Lim Jun Ying, 25.
However, only five customers have actually come in to have that nail art design done, she adds.
"The cartoon is too cute, so it is not for daily wear if you work in an office," she explains. A normal gel manicure costs $90.
Student Carles Thio, 20, who got her nails done there, says the $150 gel manicure with extensions is a departure from the "flowery and feminine" designs she usually favours.
"It is about being noticeable. People can recognise the characters as the movie was just released," she says.
It is not just businesses jumping on the minion wagon.
Architect Eugene Tan, 37, who built a minion sculpture out of 500 Lego bricks with his seven-year-old son, says it was the perfect father-and-child bonding activity. Both are fans of the movie.
Of their sculpture, Mr Tan says: "It is shaped symmetrically, so it is fairly easy for me to build one side, and have my son learn to replicate the other and find the right colours."
But not all are enamoured by the characters.
Undergraduate Tan Li Ling, 23, says: "Just watching the minions in the movies is fine, but with all these products floating around, it might well be commercial overkill."

Get a copy of The Straits Times or go to straitstimes.com for more stories.