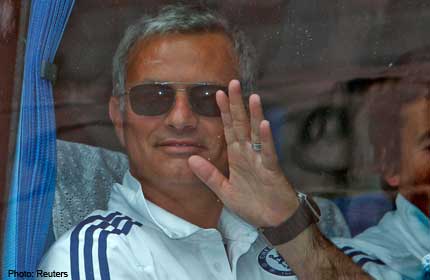 UNITED KINGDOM - Jose Mourinho insists that he's a new man, but some things never change.
The Chelsea manager still likes to cause mischief with every press conference.
This week, he's been prodding Manchester United manager David Moyes with a stick to see what he does.
Speaking in Bangkok on Chelsea's pre-season tour, the Portuguese boss managed to stir up still more speculation over Wayne Rooney's future.
Despite claiming that for ethical reasons he "couldn't talk about players from other teams", he told the press that Rooney was a player "he liked very much".
Given that Moyes has made such a public declaration of faith in Rooney, not to mention the fact that a hamstring tear will rule him out for the start of the season anyway, it seems highly unlikely that the Englishman will be going anywhere this summer.
Mourinho knows that very well.
So why did he comment? Because he wants to test Moyes' mettle.
He knows that the former Everton boss is an exceptional coach and a respected strategist.
What he doesn't know is how well he responds to the white hot pressure at the top of the table.
Will he be able to field question after question on a subject that he considers closed, without losing his temper and inviting speculation that he doesn't have the head for this altitude?
Will he be able to operate in the spotlight constantly, always maintaining a cool exterior regardless of what lies beneath?
Mourinho, of course, is a veteran at this sort of thing.
He knows pressure because, broadly speaking, he invites it.
Famously, when he first arrived at Stamford Bridge he described himself as "a special one". This was not the Mourinho we know now, remember, the man who has won league titles in four different nations.
This was a younger Mourinho, a man with everything to prove to a hostile media with a belt full of scalps from equally confident coaches.
At Porto, Chelsea, Inter Milan and Real Madrid, he makes a point of setting high standards. And then he matches them.
Moyes has no such experience at this level.
He performed wonders at Everton and those who doubted him at Goodison Park may have cause to revise their view in the future.
But he has not simply inherited a team of champions in search of a new leader.
He has in fact inherited a globally successful brand that must be constantly polished, with a vast fan base that is less than enthused about his arrival.
Most respect the choice made by Sir Alex Ferguson, but many are nervous that he might not have what it takes at the top.
Any suggestion that United have "better" or more patient supporters than other clubs is nonsense. Just as with all clubs, some fans will give their manager time and some will become hysterical after two games without a win.
Mourinho will remember well how so many United supporters turned on Ferguson when his Chelsea side usurped them at the top of English football in 2005 and 2006.
For weeks, the message boards and phone-ins were full of suggestions that the Scot's powers had waned. And then he won three titles on the trot.
Yes, Mourinho will know that any uncertainty at a rival club is something to be capitalised on. To make matters even more interesting, Mourinho also appears to be going out of his way to highlight the gap in attainment.
As well as sparking another debate over Rooney, he also took time out to remind everyone of how good he is at his job.
Despite an uncomfortable end to his career at Real Madrid, he told the press that he is "better now" than during his first stint in the Chelsea dug-out.
"I had two years in Italy and three in Spain," he said.
"I think the white hairs that I have now are a good sign too, because it also means I am better than before."
Love him or hate him, you can certainly see why the media are so happy that Mourinho's back.