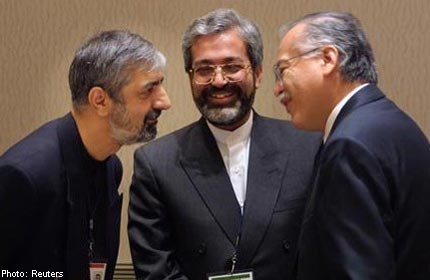 UNITED NATIONS - A senior Iranian diplomat linked to Iran's reformists was released from a Tehran prison on bail on Sunday after four months in detention, sources familiar with the case said.
Bagher Asadi, who has been a senior diplomat at Iran's UN mission in New York and was recently a director at the secretariat of the so-called D8 group of developing nations in Istanbul, was arrested in mid-March in the Iranian capital, the sources told Reuters in April.
The same sources, who spoke to Reuters on condition of anonymity, said that an Iranian media report published on Sunday about Asadi's release was accurate. They said it remained unclear why he was arrested in the first place and what the status is of the case against him.
The sources said they doubted Asadi's release from prison represented a move by Iranian authorities to relax what analysts and Western diplomats have described as a crackdown on dissidents in Iran ahead of the June presidential election.
Tehran's UN mission responded to a request for comment by referring Reuters to a report on Asadi's release by Iran's ISNA student news agency.
The 61-year-old diplomat was held at Tehran's notorious Evin Prison in solitary confinement for months and without access to a lawyer for his entire detention, the sources told Reuters.
Iran's reformists were sidelined after Mahmoud Ahmadinejad, the conservative former mayor of Tehran, won the presidential election in 2005, replacing reformist Mohammad Khatami. The sources said Asadi's arrest may have been linked to the pre-election crackdown on dissidents.
Ahmadinejad will step down soon. Hassan Rohani, a pragmatic conservative widely seen as a relative moderate, won last month's vote.
In January 2004, Asadi wrote an opinion piece that ran in The New York Times in which he made clear his affinities with the reformist philosophy of Khatami, who was president at the time.
Former UN Secretary-General Kofi Annan appointed Asadi in 2003 to a panel of eminent persons on UN relations with civil society.