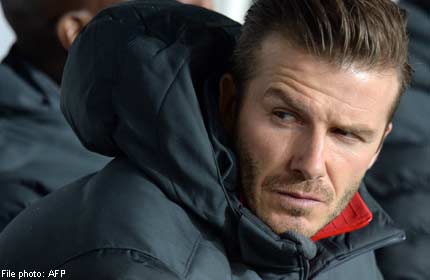 LONDON - Football superstar David Beckham recommended his friend Prince William and his wife Catherine call their baby David if it's a boy.
The former England captain, 38, who attended the couple's wedding in April 2011 with his Spice Girl singer wife Victoria, suggested his own name for the new royal arrival.
"David's pretty good! David's not bad. I think they should go for David - if a boy!", he told Sky News television.
British bookmakers make the name David an outsider at odds of between 33/1 and 100/1.
The father of four said the 31-year-old prince's maturity would help him in his new role.
"They're going to be amazing parents because they are so loving towards children," he said.
William has been the president of the Football Association, the sport's governing body in England, since 2006.
"I've seen more of William than I have of Kate but William has been in all of our lives for so many years and we've seen him grow from that young boy into an unbelievable gentleman," Beckham said.
"And that's an amazing quality that he shows. I think that, as a father, is so important."
In 2010, Beckham, William and British Prime Minister David Cameron teamed up and flew to Zurich in a bid to bring the 2018 football World Cup to England.
However, the all-out charm offensive flopped, with England only earning two of 22 votes - one of them their own.
Beckham, who won six English league titles with Manchester United, likes to tease William about being an Aston Villa fan.
King Edward VIII, who inherited the throne in 1936 before abdicating, was known in the royal family as David, one of his other given names.