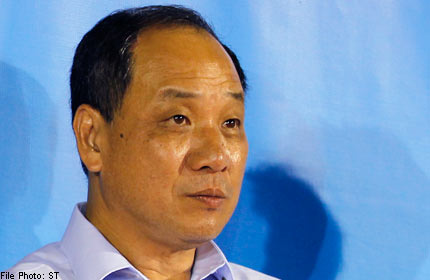 Responding to Prime Minister Lee Hsien Loong's statement on Friday, Workers' Party (WP) chief Low Thia Khiang said the party had already made its position known and did not find it "productive to continue" the argument.
The Prime Minister's Office described this as a "non-statement" and said "serious charges" against two of the party's MPs remained "unrebutted".
In May, hawkers under the WP-run town council had said they were asked to pay extra for the cleaning of high areas in their markets.
The WP denied making the demand and said there had been a misunderstanding arising from a "misleading" e-mail sent by the National Environment Agency.
But Environment and Water Resources Minister Vivian Balakrishnan said WP MPs Pritam Singh and Sylvia Lim had been untruthful and PM Lee backed him up, asking the opposition party to clear the doubts over their integrity.
On Saturday, Mr Low said: "The various allegations against the integrity of Workers' Party's Members of Parliament contained in the statement have already been fully responded to and rejected by the party, both in and out of Parliament..."
"We have put forth the facts as we have found them, based on our own earlier investigations... with a clear conscience... The relevant documents are already in the public domain, so the public can make its own judgment on the matter. We do not find it productive to continue debating and arguing with the ruling party over this issue."
Just over an hour later, the Press Secretary to the Prime Minister said in response to media queries: "AHPETC's conduct in this matter has raised very serious questions of integrity and honesty. These arise both from what the Town Council did, and what Ms Sylvia Lim and Mr Pritam Singh said."
"Minister Vivian Balakrishnan in Parliament, and the Prime Minister in his statement on Friday, pointed out that Ms Lim and Mr Singh had made false and untruthful statements, and tried to cover up the Town Council's wrongdoing. Mr Low's latest non-statement addresses none of these serious charges, which therefore stand unrebutted."

Get The New Paper for more stories.