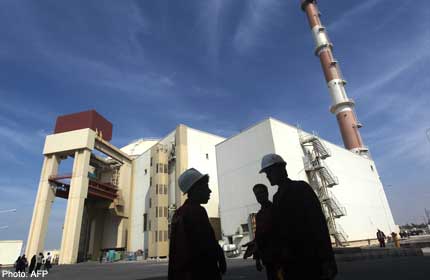 TEHRAN - Iran on Tuesday accused arch-rival Israel of attempting to poison the mood against its moderate president-elect Hassan Rowhani, who has raised hope to end a dispute over Tehran's nuclear ambitions.
Israeli Prime Minister Benjamin Netanyahu on Sunday called Rowhani "a wolf in sheep's clothing" who would "smile and build a bomb".
Iran's foreign ministry spokesman Abbas Araqchi, speaking to reporters on Tuesday, said Netanyahu was "angry" that Rowhani's June election had created "a positive atmosphere in the international community".
Netanyahu's remarks, he said, "is a sign of his regime's interference in Iran's relations with other countries, and a proof of its destructive role and attempt in damaging those relations".
Rowhani, an ex-nuclear negotiator who has held top state positions since the 1979 inception of the Islamic republic, is to take office from President Mahmoud Ahmadinejad on August 3.
Tensions between regional arch-foes Iran and Israel hit a strident high during Ahmadinejad's eight-year presidency, marked by his repeated controversial remarks regarding the Jewish state, including the denial of the Holocaust - as Tehran dramatically expanded its nuclear programme.
Iran says it seeks peaceful nuclear applications, rejecting Western suspicions that the programme is aimed at military objectives, and brushing aside military threats by the United States and Israel against its work.
Netanyahu on Sunday renewed his threat to take unilateral military action, saying that Tehran's nuclear conduct was unlikely to change under Rowhani.
Iran in engaged in long-running but so-far fruitless negotiations with world powers aimed at resolving the nuclear standoff diplomatically.
Rowhani, 64, has promised to offer more transparency to resolve the nuclear issue, hoping to lift the sanctions which have left Iran's ailing economy in tatters.
Final decisions on Iran's nuclear drive rest with supreme leader Ayatollah Ali Khamenei.