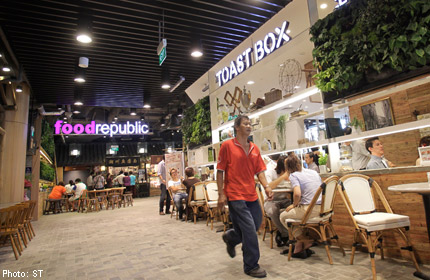 Mention the idea of working in an industrial estate to job seekers and many would envision colourless, nondescript factories where kopitiams are the only lunch places available.
But the new 15ha iPark at the mature industrial estate in Paya Lebar - with its glistening glass windows that showcase tenants, and gastronomic and retail offerings from the likes of Din Tai Fung and Charles & Keith - is a far cry from that perception.
That is why the Paya Lebar iPark has seen an influx of young talent keen to work there.
Several well-known local companies have set up their headquarters there - BreadTalk Group is the latest tenant to do so.
The food company opened its $64 million international headquarters last month at the environmentally friendly industrial park, which is positioned as a hub for small and medium-sized enterprises (SMEs) from selected sectors.
The iPark - a pilot project by JTC Corp - aims to attract SMEs from the food and beverage, retail and light manufacturing sectors.
Classified as a Business 2 zone, the area may be used for industry, warehouse, utilities and telecommunication purposes within a prescribed nuisance buffer zone. Certain parcels of land there also have a white site component, so developers have greater flexibility in terms of development options.
A JTC spokesman said the iPark is designed to "foster close interaction and collaboration between the companies, businesses and talents located in the area".
BreadTalk said the park's strategic location across from the Tai Seng MRT station is a big draw.
The group's senior vice-president of brand development, Ms Joyce Koh, 37, said: "Our headquarters can cater to the working crowd here, who want a convenient place where they can dine and entertain even after work."
The headquarters, also known as the BreadTalk Corporate Building, will house the company's retail, research and development, training, logistics and central kitchen facilities.
The ground floor of iPark offers dining options from BreadTalk's major brands such as Din Tai Fung and Toast Box, while the second floor features retail space.
Another established food company anticipated well in advance the buzz that the iPark would generate - Sakae Holdings.
The firm behind Japanese dining chain Sakae Sushi was a pioneer tenant, locating its headquarters at iPark three years ago and naming it Sakae Building.
Chief executive Douglas Foo said the company decided to seize the advantage by moving in early, and that call has paid off.
"It has generated a lot of interest among food and beverage firms, which now want to be located in the area," he said.
Visitors to Sakae and BreadTalk can stroll through wide covered walkways that shield them from the scorching sun and make the structures look more like malls than industrial buildings.
Demand from food and beverage companies has been so high that all four plots set aside for the industry have been fully taken up.
Besides the popular dining establishments, workers can also indulge in retail therapy at iPark, especially when brand-name warehouse sales are held.
Shoe and fashion group Charles & Keith has set up shop at two buildings in the cluster. One is a 50,000 sq ft building on Tai Seng Street built originally in 2006, which also houses high-end online fashion store Reebonz. The second is its headquarters on Tai Seng Link, which occupies a gross floor area of 170,000 sq ft.
Mr Dicky Koh, Charles & Keith's chief financial officer, praised JTC for its vision and for the design of the iPark.
He said: "They had an idea of how the iPark should look, and gave us an idea of how each building would probably look - be it more modern or avant garde."
The multifaceted offerings at the iPark have made it easier for companies such as Charles & Keith to attract more staff to work in the area.
Reebonz co-founder Samuel Lim, 34, agreed and added: "Our staff have a wide range of food choices and we can have business lunch meetings here, which saves us from having to travel out."
Reebonz's move to consolidate its operations at the iPark has led to greater productivity because the presence of logistics companies there has facilitated its supply chain, Mr Lim said.
Unlike most industrial parks, iPark has an ample supply of covered carparks - which include those at the Luxasia Building and BreadTalk's multi-storey carpark.
Come next year, printing and supply chain firm Teckwah Industrial Corp will set up its headquarters at the iPark. The five-storey building, to be called Pixel Red, is under construction and will cost almost $50 million.
iPark is next to the Crescendas Print Media Hub, so the area will be a one-stop service hub for design and printing, said Mrs Angela Kok, Teckwah's director of corporate communication. A vehicular bridge crossing is in the works as well.
SLP International research head Nicholas Mak said 30-year leasehold land in the Tai Seng area garners prices of about $160 to $200 per square foot per plot ratio (psf ppr). Industrial property prices for such land vary from $80 psf ppr for Tuas, for example, to the low hundreds, and usually do not exceed $150 psf ppr, he said.
"Tai Seng might see higher prices as it is near an MRT station and more centrally located."