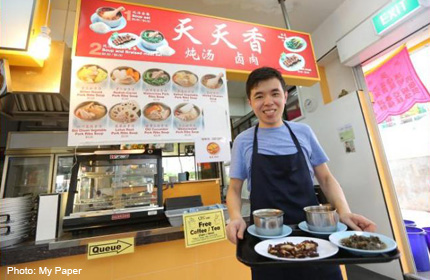 SINGAPORE - Between working in an air-conditioned office for eight hours and toiling in a hot kitchen for over nine hours, two office workers chose the latter.
Mr Wu Guohong, 27, quit his white-collar job three months ago to start his own hawker stall, Tian Tian Xiang, selling soup and braised meat.
He had two reasons for doing so: Passion for cooking and not wanting his mother's recipe for braised meat to be lost.
His mother has a stall at a hawker centre in Boon Lay selling cooked food. One of her most popular dishes is the braised meat which he sells at his own stall.
Mr Wu had originally wanted to stay as an international-relations associate at the Ministry of Finance for a longer period of time, with the plan being to take over his mother's stall only when she retired.
However, a space at CFC 1080 Canteen at 1080 Lower Delta Road opened up and he jumped at the opportunity.
"Becoming a hawker happened earlier than I expected, but it is still my wish to take over my mother's stall eventually," he said.
Mr Wu added that he is earning "considerably less" than before, but that money is not his "primary concern". 
He is not alone in quitting his white-collar job to be a hawker.
Ms Lee Siew Khim, 40, quit her job as an accounts assistant to take over her parents' yong tau foo stall eight years ago.
The stall, Xiu Ji Ikan Bilis Yong Tau Foo (#02-88, Chinatown Complex Market, 335 Smith Street), has been around for 50 years. It was started by Ms Lee's grandfather.
"The yong tau foo we sell is handmade," she told My Paper. "The taste and texture differ from machine-made yong tau foo."
That is not the only thing that sets the stall apart from other such stalls. The soup there is boiled using ikan bilis and fish bone.
But the family business will not last forever. Ms Lee shared that when she and her husband retire, there would be nobody to take over the stall.
She revealed that she starts her day at 2am, and closes the stall only at 3pm.
"Not many people would be able to take the long hours," she added, shaking her head.
oonlisa@sph.com.sg

Get My Paper for more stories.