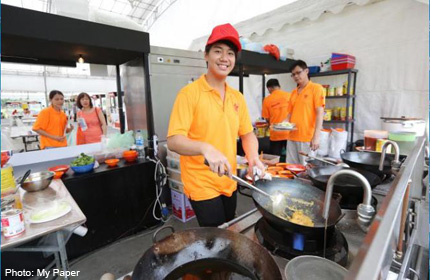 SINGAPORE - Amid the recent concern that Singapore's hawkers are slowly fading into obscurity as the younger generation does not want to step up to the plate, a small group of hawkers is rising to the challenge.
Mr Chris Eng, 18, is one such hawker. He quit school just before his O levels so that he could help his parents at their stall, Star Yong Kwang BBQ Seafood (Block 120, Bukit Merah Lane 1, #01-07/08; www.facebook.com/StarYongKwangBbqSeafood).
Located in Alexandra Village Food Centre, the stall sells zi char and barbecue seafood, with a menu offering 50 to 60 dishes.
Of his decision to leave Nan Hua High School, Mr Eng said: "It was an extremely difficult decision. I thought about it for three months."
He added that his principal's support helped him to make up his mind.
Mr Eng took his O levels as a private candidate in 2011. He keeps his O-level certificate in his drawer in case he wants to further his education.
To publicise the stall, Mr Eng set up a Facebook page, on which he uploads photos and posts updates.
"My father is very old-fashioned and does not trust the Internet. He thinks that television is a more powerful tool when it comes to advertising.
"I told him that if blogger Ladyironchef (Brad Lau) blogs about us, we would be famous. But he does not understand. I would just give up on explaining," he said with a laugh.
Mr Eng is not the only hawker who has turned to the Internet to promote his parents' stall.
Ms Hong Wei Ting, 21, who helps out in her mother's Fortune Food business (Block 69, Geylang Bahru, #01-2777; http://fortunefood.sg), also set up a Facebook page and a website to "reach out to more customers" and allow them to place orders online.
Fortune Food, which sells popiah and kueh pie ti, was started by Madam Yeo Guek Eng, 50, and is well-known for its handmade popiah skin.
Ms Hong intends to continue the business when her parents retire.
"I grew up with the business," she said.
"You could say that I have a sentimental attachment to it. Furthermore, I want to lighten my parents' burden."
Ms Hong has been helping out from the time the business was just a humble stall in a hawker centre in Geylang Bahru. Now, it has branches islandwide and a main kitchen in Bedok North.
The Ngee Ann Polytechnic graduate assists by keeping the accounts in order, using the skills she learnt in school.
Another hawker who is taking over the reins from his parents is Mr Gavan Sing, 33, of Lek Lim Nonya Cake Confectionery (Block 84, Bedok North Street 4, #01-21, www.facebook.com/LekLimNonyaCake).
His parents had told him that they were thinking of retiring, and asked if he was interested in the business. Otherwise, they would sell it.
He saw that the business still had the potential to grow, and worried that the next owner would not treasure it and "care only about the money".
After taking over, Mr Sing took steps to move with the times. He created a Facebook page to post updates and photos of his kueh, particularly his signature ang ku kueh and kueh lapis.
He also gave his kueh an updated look by introducing a kueh platter, inspired by the sushi platters at Japanese restaurants.
Star Yong Kwang BBQ Seafood, Fortune Food and Lek Lim Nonya Cake Confectionery will be at the Singapore Favourite Food (SFF) Village till Sunday.
The SFF Village is located outside Bayfront MRT station.
Mr Luke Lee, director of the Singapore Food and Beverage Alliance, which organised the SFF, said the SFF Village aims "to remind Singaporeans and foreign friends alike how diverse our local food culture is, and to celebrate Singapore's culinary heroes, be it hawkers or small eateries".
oonlisa@sph.com.sg
The Singapore Favourite Food Village is on till Sunday, and is located outside Exit A of Bayfront MRT station. Entry is free.