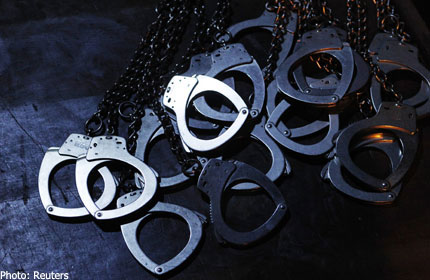 KUALA LUMPUR - A teenage girl was part of a gang of robbers that preyed on polyclinics in Kuala Lumpur when it was not hitting restaurants, spas, furniture shops and sundry stores.
She would be inside the clinic, pretending to be in line to see the doctor, while actually taking note of wealthy patients, reported Malaysia's The Star.
She would signal the rest of the gang and the men would storm in, brandishing parangs and demanding cash and valuables.
Police said the gang was responsible for at least 14 robberies in Kajang, Cheras and Seremban in the last three months.
The gang's successful streak ended when one of them - a 21-year-old man - was shot dead by Pahang Chinese Chamber of Commerce chairman Tan Sri Lam Kam Sang, 68, during a botched robbery at a polyclinic in Taman Pertama, Cheras, last week.
The rest of the gang members fled after their accomplice collapsed but police tracked them down to their flat in the early hours on Friday.
Three male suspects - aged 22, 23 and 30 -and the girl, 17, were arrested.
Police believe another seven members of the gang are still at large.