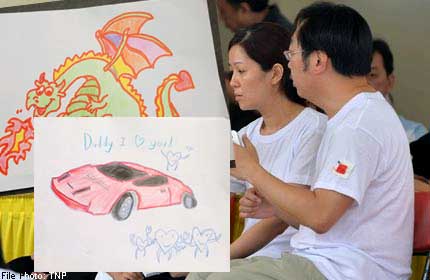 SINGAPORE - When he was told his father and grandfather had died last week, the three-year-old son of Mr Tan Chee Heong posed a heartrending question.
"Why did Papa and Gong Gong (grandfather in Mandarin) die at the same time?" he asked his family. There were no easy answers.
His father, 42, and grandfather Tan Boon Sin, 66, were brutally murdered last week at their family home in Kovan.
The man accused of the crime, policeman Iskandar Rahmat, 34, has been charged with murdering the two men, though there is no word yet on the motive.
On Monday, the Tan family continued to mourn their deaths at the Teochew Funeral Parlour in Ubi.
The younger victim's uncle, Mr Ong Boon Kok, 49, also showed reporters some artwork done by the boy and his 10-year-old brother in memory of their father and grandfather. The drawings will go into their coffins.
There was a picture of a dragon - a nod to the dragon-related games the younger Mr Tan played with the younger boy. There was also a drawing of a sofa, which the family was expecting to be delivered last week.
"I miss you daddy," wrote the older boy above the drawing.
More visitors dropped by to pay their respects on Monday, including Workers' Party MPs Sylvia Lim (Aljunied GRC) and Lee Li Lian (Punggol East). The scene of the crime, Hillside Drive, is part of Aljunied GRC.
Long-time customers of the car workshop the elder Mr Tan owned also turned up at the wake, which was being watched by two plain-clothes police officers.
At a Meet-the-People Session on Monday night, Ms Lim said: "The investigations are still ongoing so I don't think we should pre-judge the issue. It's a terrible tragedy and I think the family needs to be given some space to grieve."
The victims' funeral were held on Tuesday afternoon.
Meanwhile, police investigations are still ongoing.
Chinese evening daily Lianhe Wanbao reported on Monday that about 30 police officers and divers spent around five hours looking for the murder weapon in the waters near the National Sailing Centre at East Coast Parkway on Sunday.
It is not known if the weapon - believed to be a knife - was recovered. But police did confirm on Monday that Iskandar has been formally interdicted - or suspended from duty without pay - following his arrest and the decision to charge him in court.
The police added: "As court proceedings against Iskandar are ongoing, we should let the law take its course, and not engage in speculation that could perpetuate misleading information that may cause further distress to the families involved in the case."
Friends, relatives bid teary final farewell to Kovan murder victims


Click on thumbnail to view (Photos: ST, TNP, Shin Min, Video screengrabs)
Funeral rites for victims of Kovan double murder


Click on thumbnail to view (Photos: ST, TNP, Facebook, TV screengrabs, Ong Boon Kok)

Get a copy of The Straits Times or go to straitstimes.com for more stories.