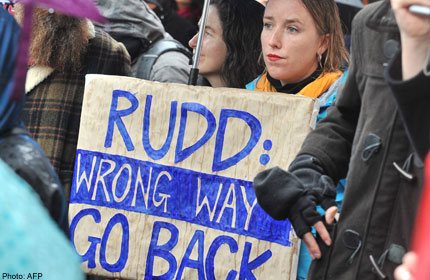 SYDNEY, New South Wales - Australia on Sunday announced cash rewards for tip-offs on people-smugglers, as it defended its new hardline policy of resettling asylum-seekers in Papua New Guinea following riots in its Nauru processing centre.
Prime Minister Kevin Rudd on Friday announced that refugees arriving on unauthorised boats would have no chance of being resettled in Australia in a bid to stop the rush of asylum-seekers arriving by sea.
Instead they will be sent to poverty-stricken Papua New Guinea.
Home Affairs Minister Jason Clare said Sunday that Australian Federal Police would pay rewards of up to Aus$200,000 (US$180,000) for information leading to the conviction of people-smugglers.
"These people are peddling in misery and death. We need to shut this market down. That's why we are putting a bounty on their heads," Clare said.
"We have taken the product they are selling off the shelves, we also need to lock these people up."
More than 15,600 asylum-seekers have arrived in Australia by boat in 2013 despite scores of drownings en route in recent years and the issue is set to be key in upcoming national elections.
The decision to send would-be refugees to Papua New Guinea, a developing country with law and order issues, comes after Canberra has already begun sending asylum-seekers to the tiny state of Nauru and PNG for processing.
The remote Pacific camps have been criticised by refugee advocates and riots at the Nauru camp by dozens of asylum-seekers on Friday -- reportedly over delays in the processing of refugee claims -- saw buildings destroyed by fire.
But defending the new hardline stance, Immigration Minister Tony Burke said if it stopped people risking their lives on boats it could make a "massive difference".
"There is nothing compassionate in a policy where you see people drowned at sea," he told the Australian Broadcasting Corporation.
"There is nothing compassionate in some people waiting in camps for more than a decade."
Burke said PNG was a democracy and had signed the United Nations convention on refugees.
"Let's make clear, the commitment under the convention is not for people to be able to move to a country with a particular average income," he said.
"The commitment... is for people to be safe and to be free from persecution. The Australian Government will assist Papua New Guinea in making sure those commitments can be met."
Burke said he was awaiting more details of the damage at Nauru following the riots but that Australia was committed to its arrangements with the tiny Pacific nation which has charged dozens over the unrest.
The policy change comes amid warnings that boat arrivals could increase even further, with Foreign Minister Bob Carr saying they could top 50,000 this year if they continued at the current rate of some 3,000 people a month.
"If it continues at this level... it could rise further as people-smugglers really close in to make a financial killing," he told Sky News.
Carr said the new hardline approach carried the message that asylum-seekers, who paid people-smugglers thousands of dollars to bring them to Australia, were risking their lives at sea but would still not be resettled in Australia.
"The simple bold message is we (decide) where you are processed, we (decide) where you are settled and if you arrive by boat without a visa it is not going to be on Australian soil," Carr said.