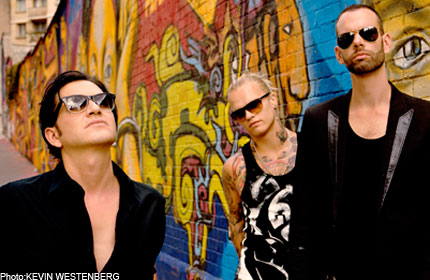 With their dark glam rock image, British act Placebo might come across as sullen and brooding.
Covering hard topics like sex, substance abuse and sorrow, their music complements their gloomy appearance.
But the image was shattered as soon as enthusiastic US-born drummer Steve Forrest uttered his first word - a simple "hi" - for our interview last week.
He was brimming with enough energy and warmth to fill a room.
Since Placebo's last album Battle For The Sun in 2009, Forrest and his bandmates, frontman Brian Molko, 40, and guitarist/bassist Stefan Olsdal, 39, have been touring almost non-stop, save for one six-month break.
"I'm just... standing in the middle of the hotel room, doing nothing much," Forrest, 27, said breezily over the phone from Berlin, where the band was promoting its upcoming seventh studio album Loud Like Love.
It is slated for release on Sept 16.
The band will also be in Singapore for the third time for a gig on Aug 27.
According to Forrest, he's "excited and ready to go".
But it was not always so. "In 2009, I had a psycholo gical breakdown," he revealed candidly.
The previous year, he had been kicked out of his former rock band Evaline and joined Placebo where he was stressed after replacing drummer Steve Hewitt.
"The pressure got to me... I was young and eager to please. I became depressed, was no fun to be around and was crying all the time. It came to a point where I hit rock bottom. But I knew I had to get a hold of myself before I mess myself up even more," he said.
Not easy
At the time, it couldn't have been easy for Forrest to come into a successful band with a 14-year history as its youngest member.
But to him, age was never a factor. Indeed, being in Placebo saved him.
"They injected life into me. We were both going through a hard break-up of sorts so (the new line-up) was like a new start for everyone," he said.
Now, Forrest said he is happier than he has ever been.
When he joined Placebo in 2008 , he called it an instant "perfect fit".
"We were re-hashing Kitty Litter (from Battle For The Sun) and it came together so perfectly. Brian looked at me and I looked at them and said, 'So, is this going to work out or what?'" he recalled.
Fast forward five years later, and Placebo is on the brink of being dismissed as over the hill.
"Bulls to that!" was Forrest's fiery reply.
"It might look like we weren't doing anything since our last record but we really haven't stopped. And now there's the new record so people have to listen to it and see," he added.
"I really sank my teeth into this one. When I joined, Battle For The Sun (checked) was already 80 per cent written, with about three songs written from scratch together. But in the new one, I gave my full input," he said.
Asked to describe the new album, Forrest said: "Beautiful and melancholy at its best."
He explained: "It begins with Loud Like Love, which is uplifting and upbeat but ends on a contrasting vibe. The record is an eclectic mix of songs like that because it was made in two halves, interrupted by touring in the middle. "I'm proud of it... music is like my baby and it's something that I'm addicted to."
WHAT: PLACEBO LIVE IN SINGAPORE 2013

WHEN: Aug 27, 8pm

WHERE: The Coliseum, Hard Rock Hotel Singapore, Resorts World Sentosa

TICKETS: $88 (standard), $108 (event day) and $148 (VIP) from Sistic (www.sistic.com.sg or 6348-5555)