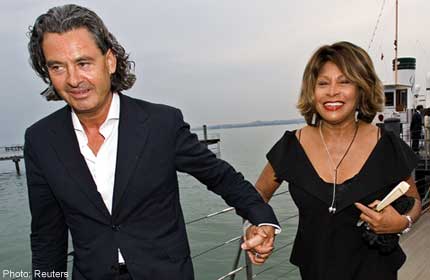 ZURICH - Singer Tina Turner has married her long-time partner in a civil ceremony in Switzerland ahead of a Buddhist celebration at their home on the banks of Lake Zurich on Sunday.
The 73-year-old "Simply the Best" singer tied the knot with German-born record producer Erwin Bach at a registry office in the Kuesnacht suburb of Zurich where they live, a municipal official said on Wednesday.
"Turner had the civil ceremony a few days ago," Kuesnacht official Hannes Friess told Reuters.
Turner, an eight-time Grammy winner known for songs like"River Deep, Mountain High" and "Private Dancer", will celebrate the wedding with a Buddhist water ceremony at her lakefront mansion this weekend, Swiss newspapers reported.
The singer, who was born in Tennessee but has lived in Switzerland for nearly 20 years, was reported to have sent flyers to neighbours apologising in advance for any noise from the residence where a small stage is being built for the party.
Turner enjoyed huge success in the late 1960s and early 1970s performing with her husband, Ike Turner, but the couple divorced in 1978 after a stormy marriage in which she was beaten. Ike Turner died of a cocaine overdose in 2007.
Their marriage was portrayed in the 1993 film "What's Love Got to Do with It", named after one of the hit songs that helped launch her solo career in the 1980s.
Turner retired from performing after her last tour, which ended in 2009, and became a Swiss citizen earlier this year.