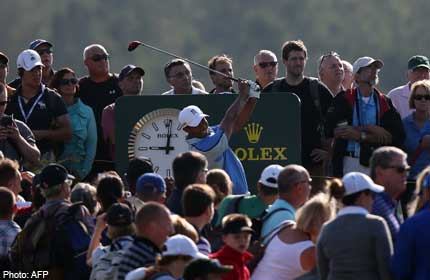 BRITAIN - In some nations, you might stumble into vicious potholes; in East Lothian, a county in Scotland with 22 golf courses, you are more likely to disappear into a bunker.
For as you drive past the Firth of Forth (an estuary), through the musically named towns of Longriddy, Aberlady and Gullane, all you find is a cratered, rolling landscape on which golf flags dance in the wind. It seems they are all semaphoring the same alluring message: Come and play.
The world's best golfers have listened and 156 have shown up on a course that is home to the Honourable Company of Edinburgh Golfers in search of a Claret Jug.
Here, amid the ancient undulating grounds of a Muirfield course where golf was first played in 1891, modern men search to make their own history. Only one will, but as of now everyone believes it will be them.
Everyone takes this Major seriously, including the event itself. Its name is simply The Open, in the same wonderfully conceited way that Wimbledon calls itself The Championship.
Tradition seems imprinted on every blade of wispy grass and on Wedneday I was confronted by a smiling Scot in a Bobby Jones cap with a collection of hickory-shafted clubs from 1905. Which seems about how long it has been since Tiger Woods has won a Major.
Woods, 37, is the favourite but it is mainly due to the lack of an alternative. He is No. 1 but has now played 16 Majors without a victory. In a way he is living on his past.
Woods owns imagination, experience, and length will be a non-issue for him on a course where he has smacked a three-iron over 300 yards on fairways where the ball rolls as if it has hit ice. It is nerve he must re-find.
Certainly, younger men are no longer petrified of his Woodness.
On Wednesday, Adam Scott, 33, whose heart was broken at last year's Open but healed at this year's Masters, said he sent Justin Rose, 32, a text after the latter won the US Open: "I feel like it's our time, I think is what I wrote to him." It is a generation which is now even audibly asserting itself.
Scott, who led by four shots with four holes left at last year's Open, found the neatest education from that defeat. "You just have to be tough coming down the stretch, and I wasn't tough enough that day."
The conclusion, Scott stated, is about wanting it badly. Of course it is rarely that simple for Rory McIlroy, no tournament won this year, is full of want yet is playing badly.
In this capricious sport that delights in theories, where Phil Mickelson has a putting idea he does not want to share and a management professor shows me a gizmo at the practice green designed to help putters, there is one unarguable fact.
Winning this Open will take the feel of a master embroider. Technique must bend to idea.
For all the forensic planning players do on where to land the ball and what club to use - McIlroy says he will use the driver five to seven times - links golf lures the artist. This is not golf just via the air but along the ground, up humps, down slopes and across flat fairways.
All week players were using words that spectators love to hear: Imagine. Conjure. Visualise. Touch.
Sensitivity.
In such a touch-feely environment, it was inevitable that gender was the most discussed subject on Wednesday at a club that is only for men. Equality is at the heart of sport but here Scottish golf showed itself not just as beautiful but backward. Perhaps they think it is still 1913.
It is a club's right to have no women members, but it is not right for a tournament of such stature to be held at such a club. What is the use of sport if it still spreads exclusionary messages? When Peter Dawson, chief executive of the R&A showed up, the talk got heated.
When a reporter asked, "Morally, what's the difference between men only and whites only?", Dawson replied: "Oh, goodness me, I think that's a ridiculous question."
The issue is being confused, but Dawson - who faced 11 of 27 questions on this subject - looked like a defiant man in an old bathtub trying to row upstream on a raging river.
He will lose this debate eventually and 155 men will lose this tournament. But not yet.
On Thursday, under expected clear skies and 8-16kmh wind, they begin on a course where the holes are designed in two circles. It means rarely, and uniquely, do players face a similar wind for more than two successive holes.
It is a challenge to improvisation, yet the single, most common word used by players to describe the course set-up has been "fair". The wise golfing folk of East Lothian will know that, after four days, this might change. After all, many figurative potholes lie ahead. And many literal bunkers.