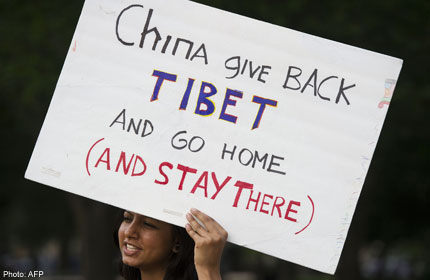 BEIJING - A Tibetan monk died after setting himself on fire in southwest China, reports said Sunday, in the first such protest for more than a month.
Kunchok Sonam, 18, carried out the protest on Saturday outside a monastery in Aba prefecture, part of Sichuan province, Radio Free Asia said in a report which cited local residents.
Sonam shouted slogans "crying for Tibetan freedom," the broadcaster, which is funded by the US government, cited a local resident as saying.
The self-immolation was the first by a Tibetan in China for five weeks, the report said, adding that his fellow monks had prevented Chinese authorities from taking away the Sonam's body after the deadly protest.
Restrictions on communication in the area "have been intensified," following the self-immolation, the London-based Free Tibet advocacy group said in a statement.
Some 120 Tibetans have set themselves alight since February 2009 in protests against what they see as Chinese oppression, the Washington-based International Campaign for Tibet said before news of the latest self-immolation emerged.
The protests -- which reportedly have resulted in dozens of deaths -- peaked in the run up the ruling Communist Party's pivotal Party Congress last November, but have become less common in recent months.
Beijing condemns the acts and blames them on exiled Tibetan leader the Dalai Lama, saying he uses them to further a separatist agenda.
But Tibetans and human rights groups say the protests are a response to tight controls on religion in the region.
The Dalai Lama, a Nobel Peace laureate who has lived in India since 1959 after a failed uprising in Tibet, has described the protests as acts of desperation that he is powerless to stop.