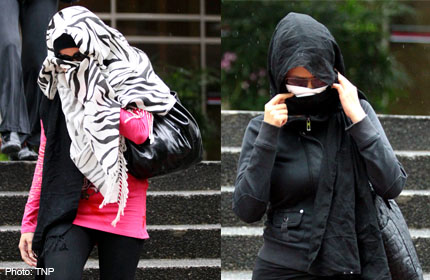 Eric Dingall egedly bribed three Lebanese football officials - a referee and two linesmen - by arranging for them to receive free sexual favours.
SINGAPORE - A hostess who had sex with a referee at the centre of a match-fixing case has testified that she was told not to accept any payment or tips.
The 1.7m-tall, slim woman - whose working name is Ann - was giving evidence at the trial of businessman Eric Ding Si Yang, who is accused of bribing three Lebanese football officials by arranging for them to receive free sexual favours.
She said a mamasan called Christine had asked her to meet some men, and told her she would receive $500 the next day.
Christine then drove her and two fellow hostesses named Chanel and Lisa to Amara Hotel in Tanjong Pagar, the court heard yesterday. On the way there, she handed them condoms in the car.
They met linesmen Abdallah Taleb, 37, and Ali Eid, 33, in the lobby.
Ann, who is in her late 20s, then went into the room of referee Ali Sabbagh, 34.
She said she did not discuss money with him, as requested. But the next day, she was unable to get the $500 because she had been detained by the authorities.
When she was released, she learnt that the person who booked her had not made any payment. In the end, Christine paid $450 each to the three hostesses out of her own pocket.
Ann told the court that her job as a hostess involved taking guests to "party at clubs". She added that she usually collected payment from them and sex was sometimes involved.
Earlier, Sabbagh testified that Ding had never mentioned any offer of "free sex" or asked him to fix a match in return. But he said the 31-year-old businessman did offer to "take care" of him during his stay in Singapore.
He told the court that he had asked Ding for "girls" and the hostesses had appeared at the hotel.
Sabbagh - who has already been sentenced to six months' jail for accepting sexual favours to fix a match - also denied that he hated Ding for causing his predicament.
"I blame myself and blame Ding a little," he added. He met the Singaporean in Beirut in June last year. Ding - who introduced himself as "James" - claimed to run a business organising international friendly matches.
In September, Ding is said to have told the official to fix a match between a Kuwaiti club and a Jordanian side.
Although Sabbagh agreed to do it, he did nothing to influence the game.
Ding allegedly went on to arrange free sexual favours for the officials on April 3 - hours before they were due to officiate an Asian Football Confederation Cup match between Singapore's Tampines Rovers and India's East Bengal. The trio were arrested in their rooms at Amara Hotel at 7am.
Taleb and Eid were both given three-month prison terms, which they have now served.
The two other hostesses were also expected to testify.
Ding was a football tipster for The New Paper from 2006 to last year.
Defence counsel Hamidul Haq said his client also carried out investigative journalism to gather information on match fixing for a colleague who worked for a newspaper here.
If convicted, Ding faces up to five years in jail, a fine of up to $100,000 or both.