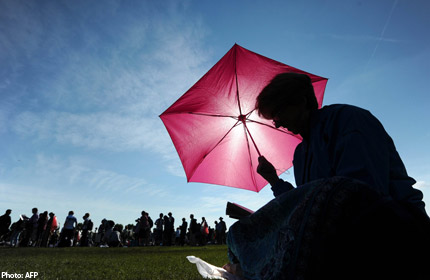 NEW YORK CITY, New York - Clutching water bottles, New Yorkers battled a sweltering heat wave Friday with temperatures topping 104 degrees Fahrenheit (40 degrees Celsius) and intense humidity packing an additional punch.
Since the beginning of the week, temperatures have hovered in the mid-90s or higher during the daytime. And night brings little respite, with the heat staying largely trapped by the asphalt.
At least one death in New York has been attributed to the extreme weather, which started earlier in the month: a 57-year-old man perished in Staten Island on July 8.
The city is under an "excessive heat warning," and officials are urging everyone to take precautions.
"Use air conditioning to stay cool, drink water to avoid dehydration, check on vulnerable family, friends, and neighbours," the health department said.
More than 420 cooling centers - typically air conditioned libraries or community centers - have been opened for those in need, especially senior citizens, authorities emphasised.
New Yorkers are being told to drink up - water, not alcohol or soda - and stay inside until the brutal heat dissipates.
That's expected to happen this weekend, after a storm meteorologists warn could be violent.
Meanwhile, in the white hot city streets, residents and visitors are making do as best they can.
Children scamper through fountains at Battery Park and Washington Square, while in Central Park, a woman and her dog got some relief at midday from an automatic sprinkler.
In some buildings, janitors distributed small bottles of water to residents.
One pedestrian fanned herself with a peacock feather. And in Union Square, chess players tried to create a patch of shade with umbrellas and parasols brought from home.
Humor was the order of the day at a Lutheran church in the city, which posted a sign outside saying, "The devil called. He wants his weather back."
The entire north-east is affected
The high temperatures have stretched across the entire Northeast and into the Midwest, including Chicago.
Boston, Philadelphia and Washington on Friday were each under their own "excessive heat warnings," and trains between New York and Boston were running slow as a precaution - in case the heat caused problems on the tracks.
Back in New York, some street vendors were worried about the economic impact of the rising mercury.
"Too hot, it's not good for business," lamented Mohammed Rahman, who sells hotdogs, curries and biryanis from a food truck on the corner of 47th Street and 3rd Avenue.
On 23rd Street, another vendor tried to unload his display of strawberries and blueberries at the steal of a dollar a box - half his usual price.
But some office buildings have actually turned down the air-conditioning slightly - in a bid to help offset pressure on the electric grid, which is working to keep up with the surge in demand.
"Electric usage in Con Edison's service area fell just short of an all-time peak, reaching 13,161 megawatts at 5 p.m. today," the city's electric utility said Thursday, comparing it to the record set in July 2011.