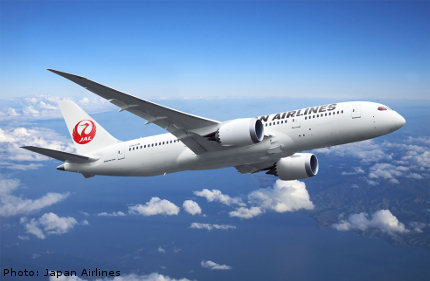 TOKYO - A Japan Airlines Boeing 787 that left Boston for Tokyo on Thursday returned to Boston due to a possible pump problem, the company said, dismissing concerns of a new crisis for the planes.
Japan Airlines (JAL) has faced several problems with the new-generation Dreamliner plane since it resumed flying after four months of being grounded for serious battery problems.
The plane left from Boston at 12:57pm (1657 GMT) but returned to its airport of departure at around 6:00 pm.
"As a standard precautionary measure due to a maintenance message (fuel pump) indicator, JL007 bound for Tokyo-Narita decided to return to Boston Logan for check and landed safely," Carol Anderson, a US-based JAL spokeswoman, told AFP in an email.
Boston Logan International Airport said on its Twitter site that the 787 made "a precautionary return".
"Flight has landed and is taxiing to gate," it said.
JAL officials in Tokyo also confirmed the maintenance message but dismissed concerns that the return might signal a new problem for the plane.
"We decided to return for precaution... as a message showing a malfunction of a fuel pump at the right engine appeared in the cockpit," said a JAL spokesman.
Even if the pump was faulty, there was no safety risk as the engine has the function to suck fuel as a back-up option, he said.
"There's no emergency at all in this case. We just wanted to be on the safe side," the official said, adding "this has nothing to do with the battery system".
Last week, another 787 used by Ethiopian Airlines caught fire at London's Heathrow airport.
JAL and another Japanese airline ANA, which has the biggest fleet of the craft, have experienced around a dozen minor complaints with the 787 since it was allowed to resume flying after being grounded between January and April.
After months of investigations, US authorities in April formally approved Boeing's battery fix and Japanese regulators followed suit.
The battery supplier, Japan's GS Yuasa, has voiced confidence that the system will never cause similar problems again.