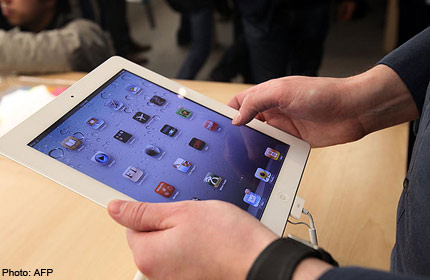 He allowed his eight-year-old daughter Lily to use his iPad so that she could play games such as Campus Life, My Horse and Smurf's Village.
Although the games were initially free to download, there were numerous in-game extras that could be bought in the form of jewels, coins or upgrades.
And the daughter ran up a bill of £4,000 (S$7,715) over five months.
She bought in-app extras while playing on the tablet using the password she had seen him enter when downloading items, the Mail Online reported.
She made 74 transactions.
Now Mr Lee Neale, 43, says he may have to sell his car and two motorcycles to pay off the bill.
The Somerset-based aerospace designer was alerted to the massive bill when he was not allowed to withdraw money from the bank.
Mr Neale claimed the schoolgirl was unaware she was being charged "real money" for the in-game purchases and asked Apple to scrap the charge.
But the company has refused.
Mr Neale said: "Lily is only eight and hasn't grasped the concept of money. She probably wouldn't know how much a bag of crisps costs. It was not until I grilled her that she said she had been using a password that she had seen me put in when I had downloaded free games for her."
Dismissive
"I was very surprised how dismissive Apple were. Basically iTunes have told me categorically that I won't be getting my money back. I am also disappointed that my bank didn't alert me to what was going on."
He said his father is lending him money for the short term.
Mr Neale claimed that the messages alerting him to the iTunes purchases were going to his work e-mail account - which he was unable to access as he was on deployment with another company.
The father contacted Apple to explain the mistake but was told "all purchases made on the iTunes Store are final".